Introduction
American Airlines First Class Greensboro to Charlotte to New York and a Day in NYC
Cathay Pacific Business Class New York (JFK) to Hong Kong
Cathay Pacific Arrivals Lounge and 12 Hours in Hong Kong
Cathay Pacific "The Wing" Lounge and HK Express Hong Kong to Chiang Mai
Le Meridien Chiang Mai and Exploring Chiang Mai (Part 1)
Exploring Chiang Mai (Part 2) and Dusit Princess Chiang Mai Hotel
Thai Airways Bangkok to Delhi and Radisson Blu Connaught Place New Delhi
Exploring Delhi (Part 1)
India Rail Delhi to Agra
Exploring Agra and the Taj Mahal and Radisson Blu Agra Taj East Gate
India Rail Agra to Delhi and Exploring Delhi (Part 2)
Plaza Premium Lounges Delhi and Etihad Airways Business Class Delhi to Abu Dhabi
Etihad Airways Premium Lounge Abu Dhabi
Etihad Airways First Apartment Abu Dhabi to New York
American Airlines First Class New York to Charlotte to Greensboro
---
We finished dinner with some friends at a really eclectic restaurant a few blocks west of Times Square, West Gotham Market – and when I say eclectic, the place is actually like a mini foodcourt, made up of multiple restaurants all in one place. You can walk up to a number of counters and order different types of food, from sushi to burgers to Mexican. We requested an Uber to head back to JFK, which took about 40 minutes (20 of which were just getting out of Manhattan). We pulled up to Terminal 7 around 11:15 pm, which was pretty deserted (both inside and outside), since it was only 90 minutes till departure.
We walked straight into the terminal and saw the Cathay Pacific check-in counters. It wasn't until we approached them that we realized that the Business Class counters were in the next row of check-in counters, but there was no line at the Economy counters (since we were arriving without a whole lot of time to spare) so we simply checked in there. Within a minute or two, we had our boarding passes and lounge invitations (both for JFK and for Hong Kong).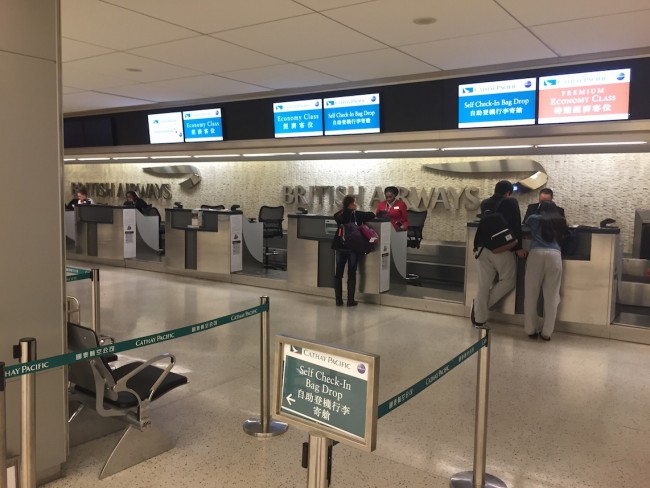 There was also no line at security, so we we through in no time, and we headed to the lounge for about 35 minutes until our flight was scheduled to begin boarding. Cathay Pacific uses the British Airways Galleries Lounge at JFK, which is mediocre.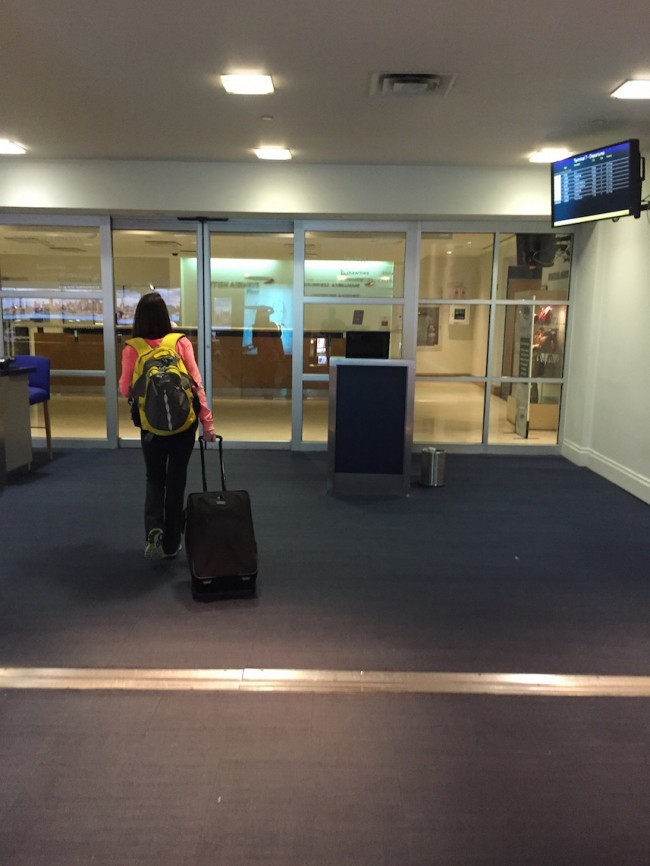 The food and drink options are ok, there was a decent amount of seating (although I imagine it could get pretty busy during the day), and the furniture was in good condition, but the ceilings were low and it sort of felt like a basement.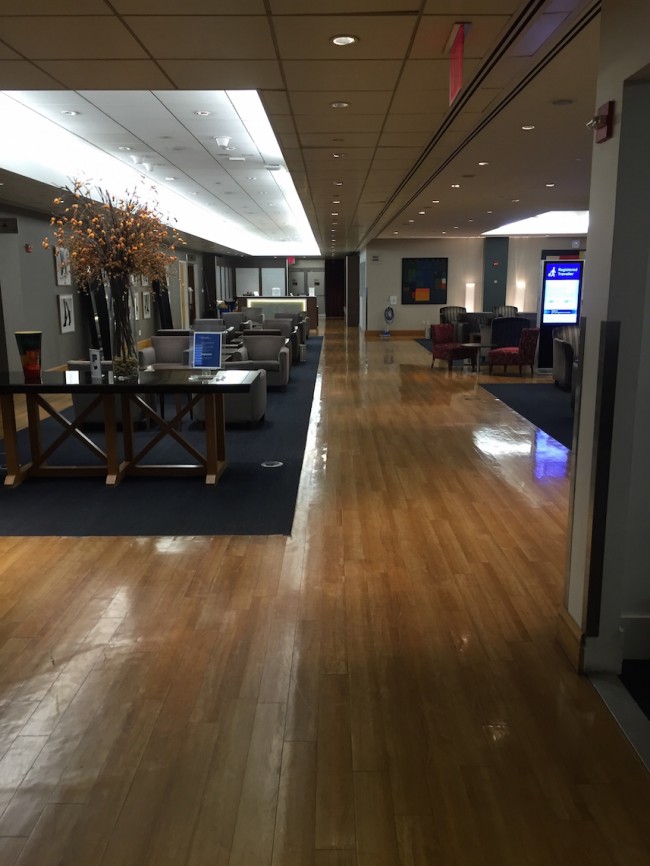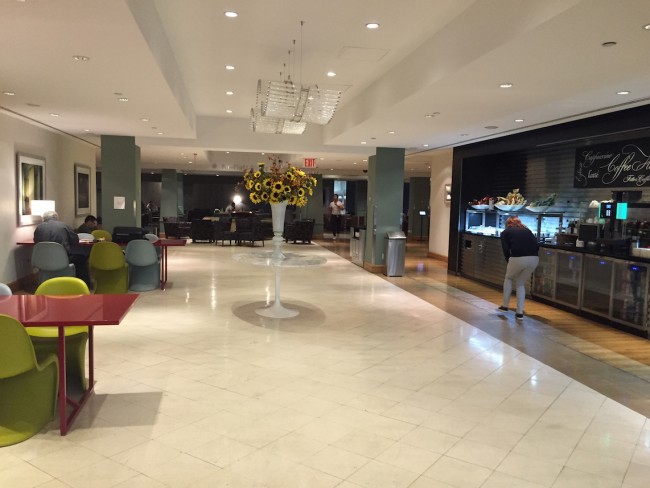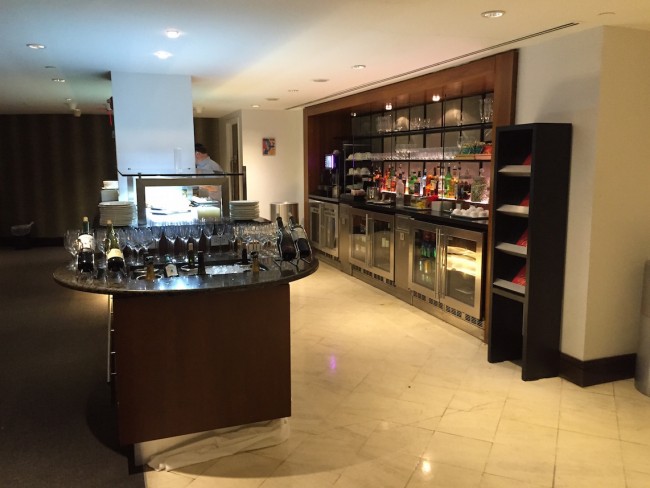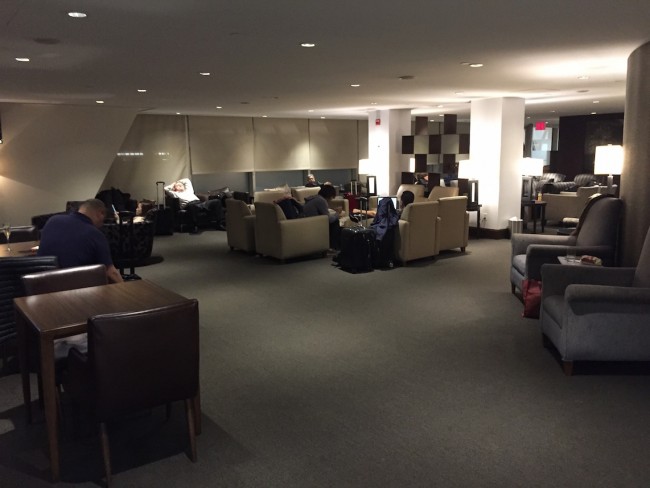 Around 12:15 am, an announcement was made that we should proceed to our gate for boarding.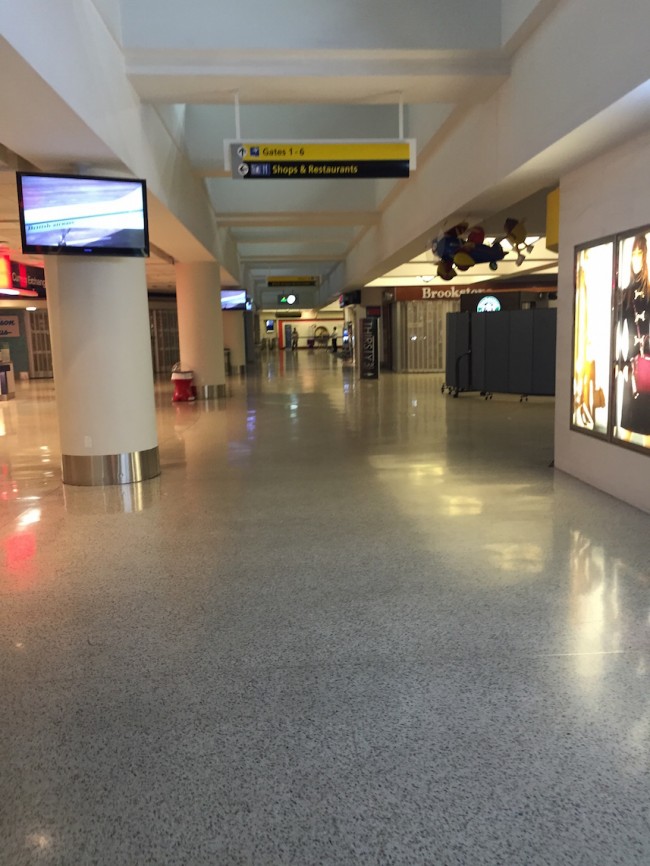 CX 845 (New York JFK to Hong Kong)
November 22, 2015
Depart JFK 12:45 am Arrive HKG 5:40 am (+1 day)
Boeing 777-300: Seats 11D, 11G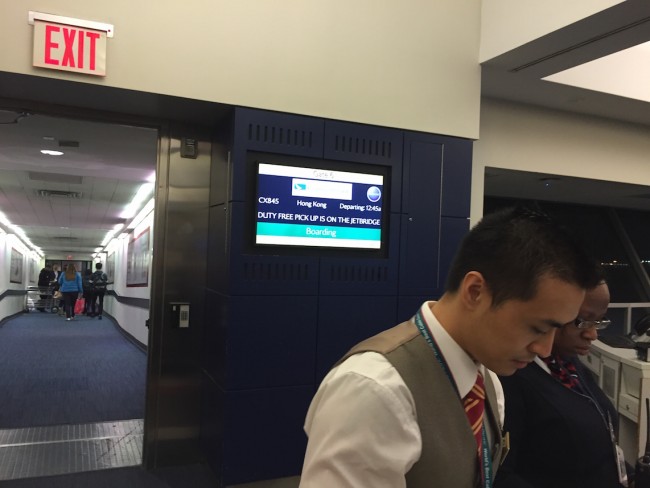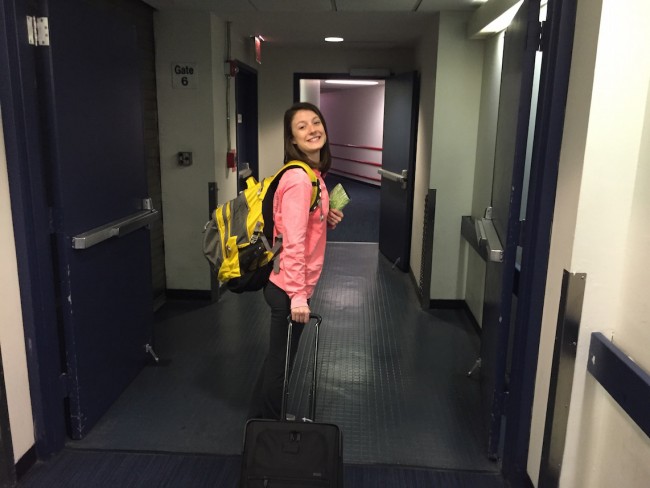 As we stepped onto the plane, we turned left and headed up towards the front of the Business Class cabin. Our seats were in Row 11, the very first row of Business Class – I had researched a lot, hoping to pick the quietest seats possible (spoiler alert: I didn't really succeed), where we starting settling in. The Cathay Pacific Business Class seats are very spacious and private, yet when traveling with a companion, you don't feel so far apart that it's difficult to communicate.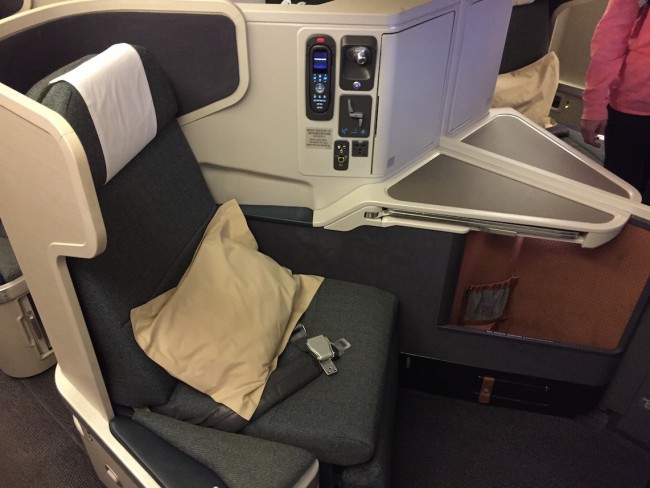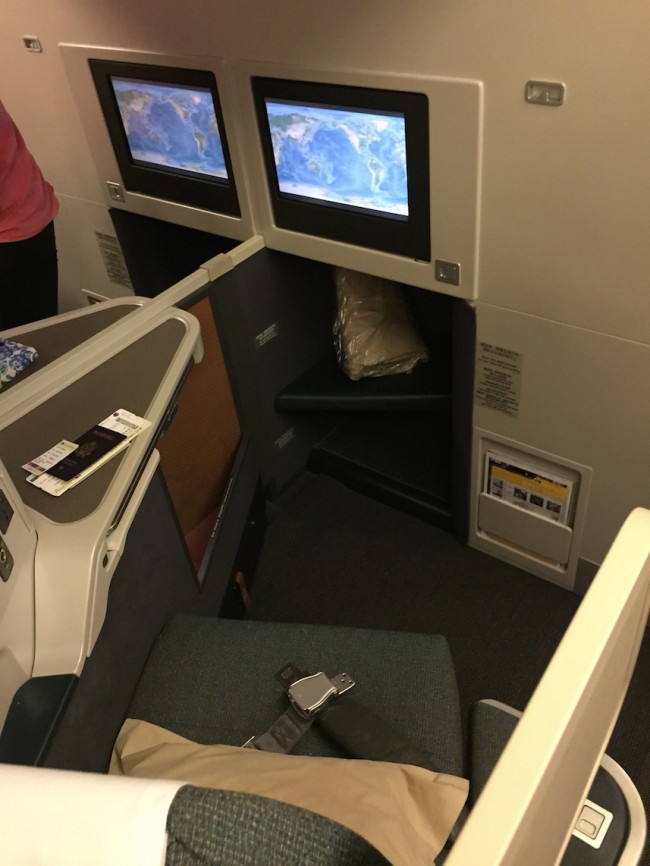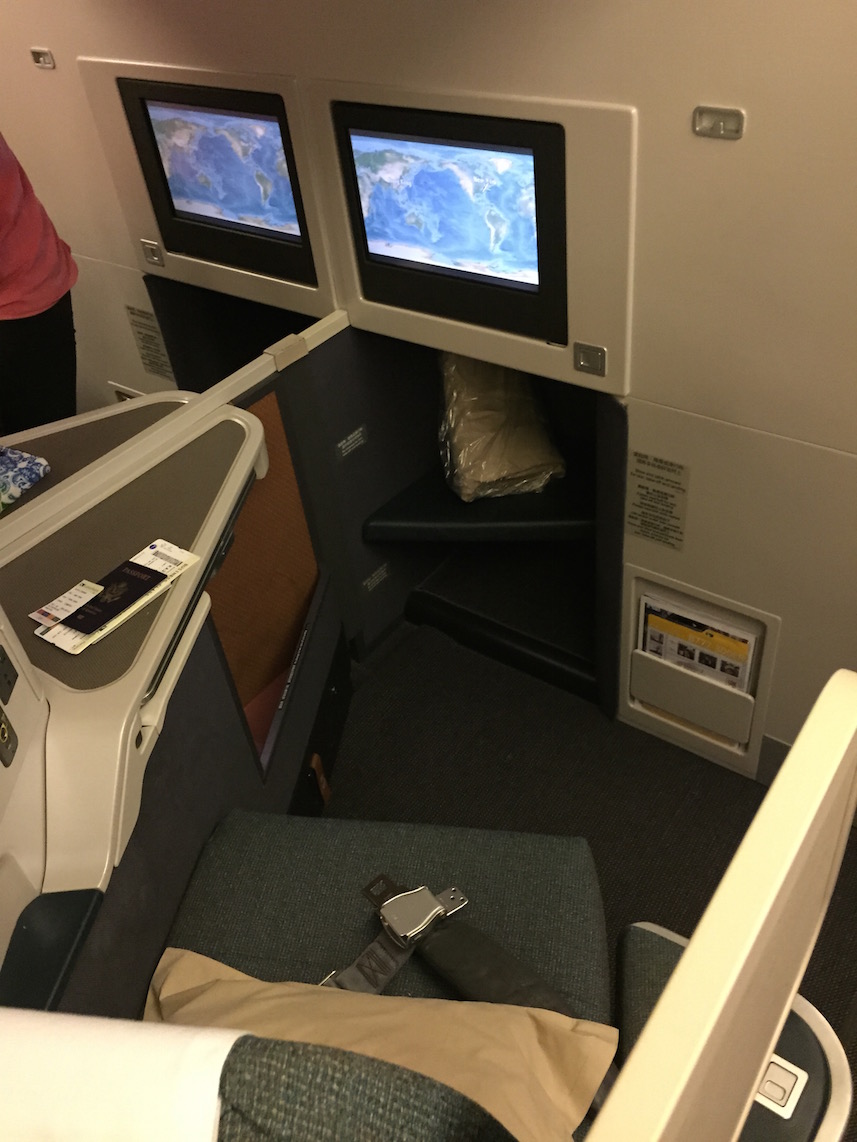 Along the left side of the seat were the controls, as well as a rather large pocket, which was big enough to store a pair of shoes in.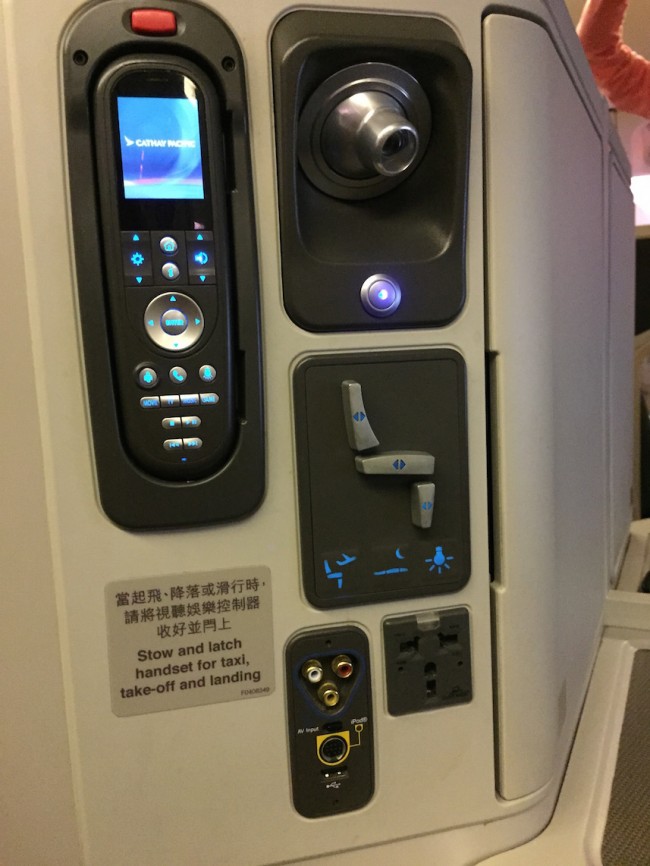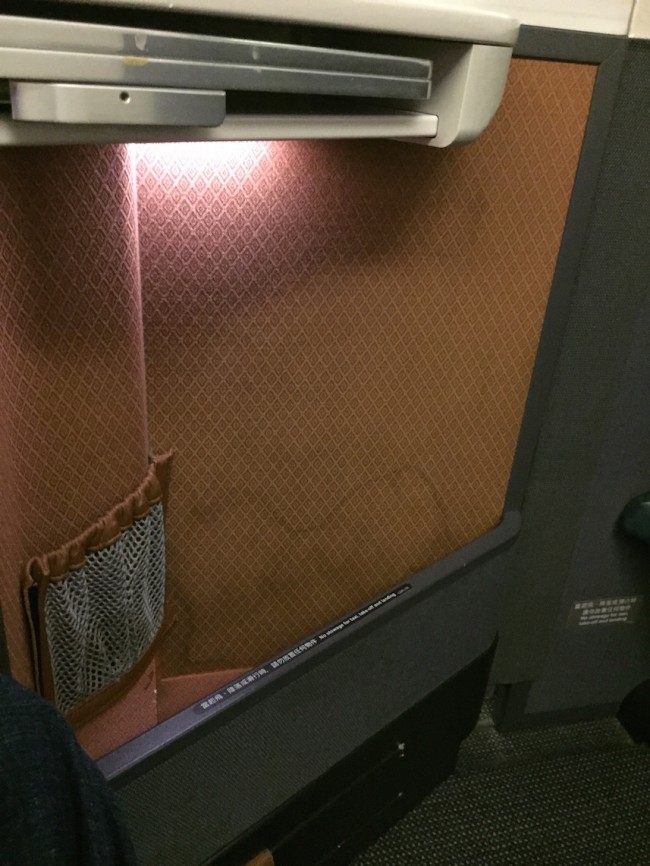 As we were getting settled, we were offered the choice of water or champagne to drink before take off. Without much hesitation, we opted for champagne. Within a few more minutes, we were ready to push back to begin our 15+ hour journey to Hong Kong.
Since we had been up since 3:30 am, and it was after 1:00 am by the time we were in the air, we were both ready to crash, so we quickly reclined our seats into a bed. The Cathay Pacific Business Class seats are setup in a 1-2-1 configuration – we were in the 2 seats in the middle, but unfortunately, the passenger seated right across the aisle from the Mrs. Guru seemed to be intoxicated when he boarded, and had an obnoxious, nagging cough. I even pulled a cough drop out of my bag and offered it to him, which helped slightly for a little while, but he still coughed on and off the whole flight.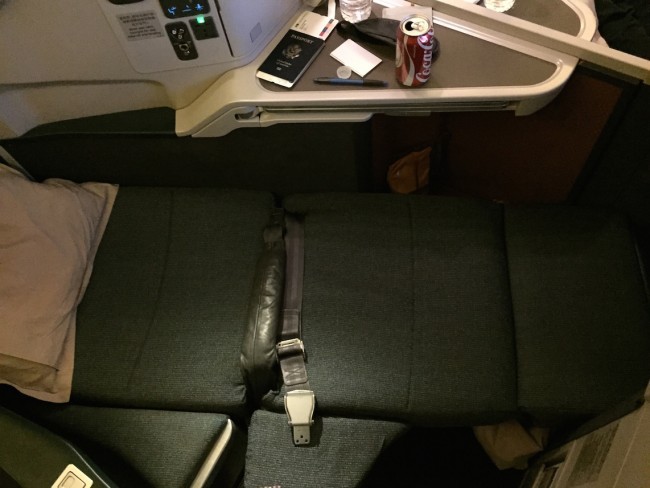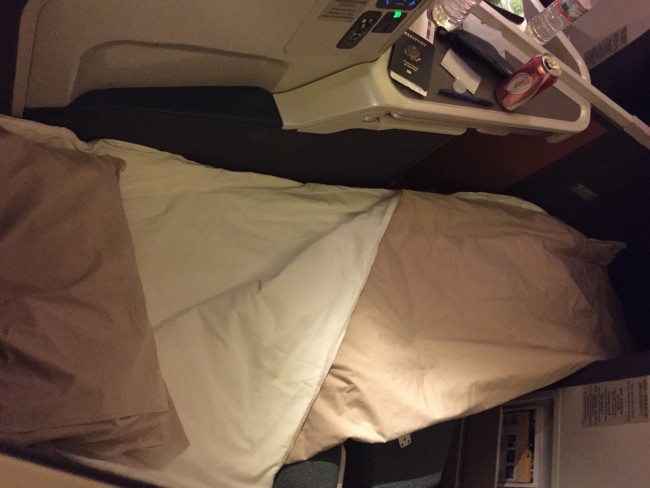 I honestly think that Cathay Pacific has the most comfortable Business Class bed of any seat I've tried up until now. The seat cushions were the perfect balance of soft, yet firm. I slept well for several hours, but unfortunately, directly in front of my seat was a closet, which the flight attendants seemed to constantly need to go in and out of, so I kept hearing it unlatch and relatch. Since I was so tired, and since the bed was really comfortable, I was able to fall back asleep pretty quickly, but I would definitely NOT choose to sit in this seat again.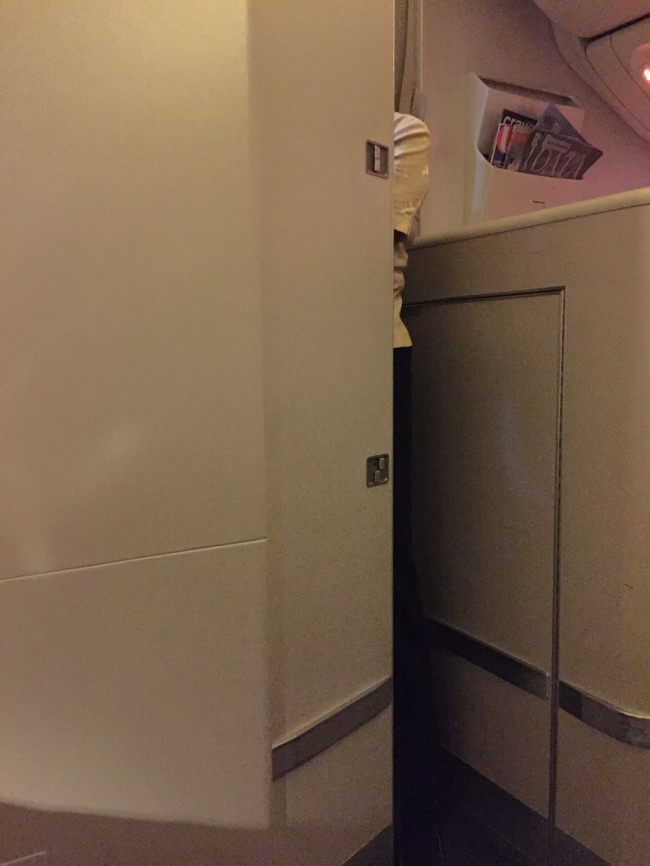 After about 8 hours, we both woke up and were ready to eat, so we took a look at the menu for our meal options.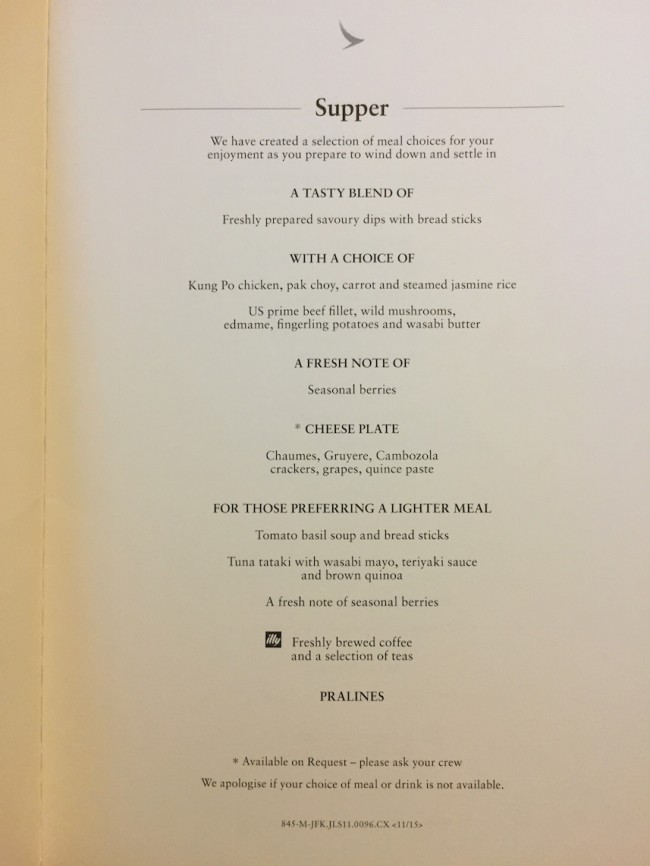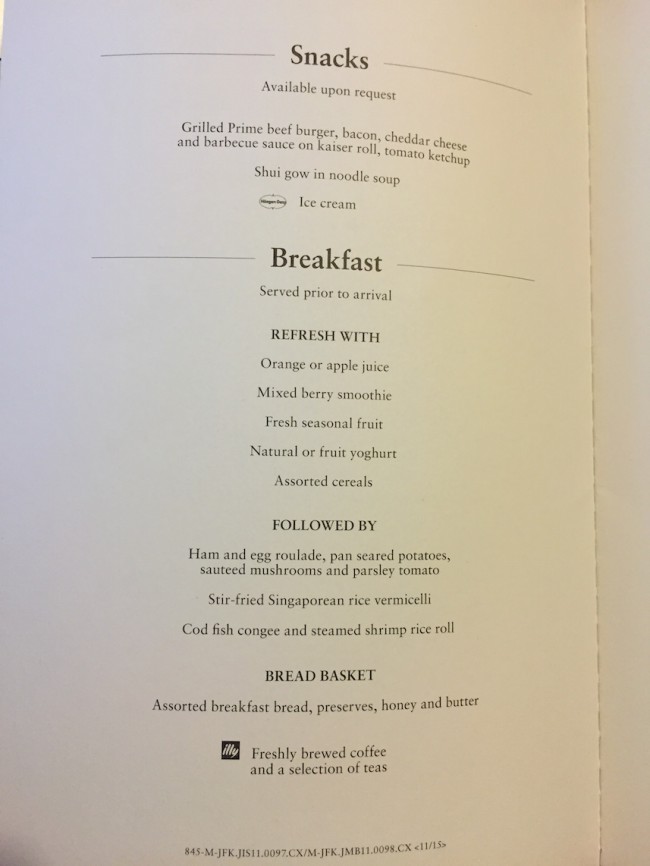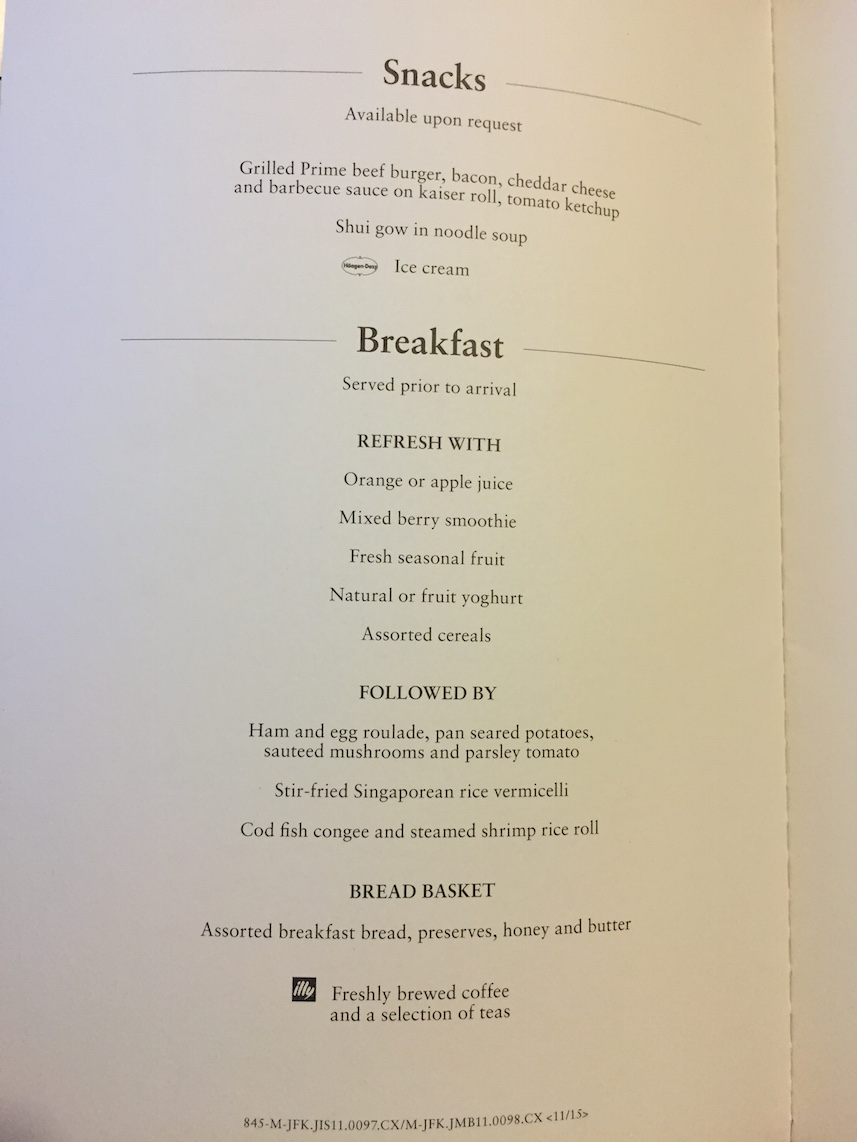 I ordered the Kung Po chicken, while the Mrs. Guru ordered the blend of breadsticks and dips, along with a mixed berry smoothie and a coffee. Everything was tasty and well-presented.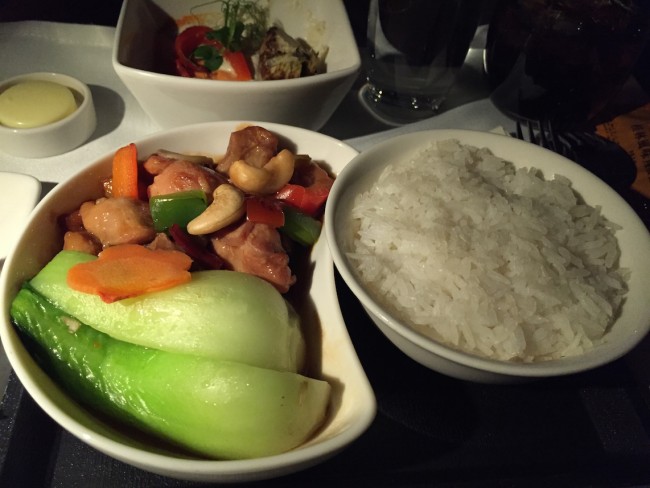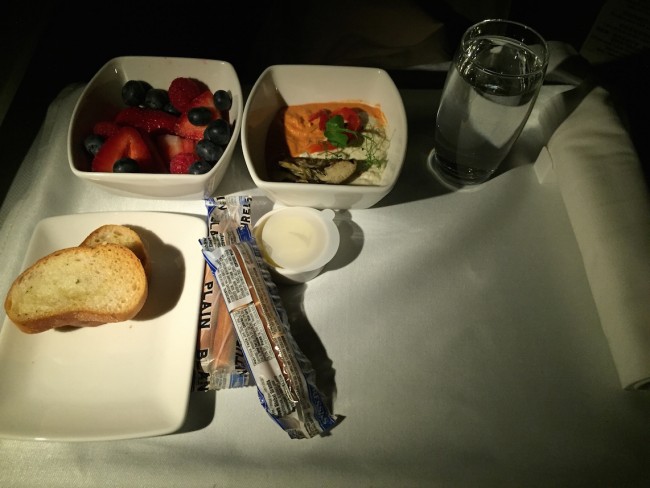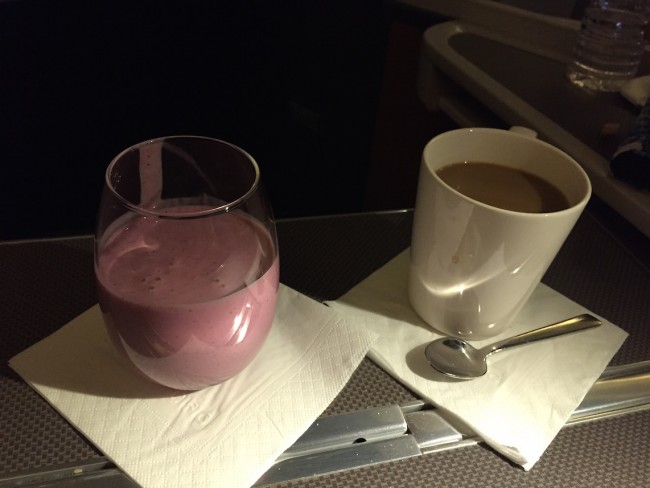 After our snack, we still had about 6 hours to go, so we decided to watch a movie – we decided on Trainwreck, which we both started on our screens at the same time, so we were essentially watching it "together." After the movie, we were starting to get a little hungry again (neither of our snacks were all that big), so we decided to try a few more things off the menu. This time, from the breakfast menu, I ordered the Stir-fried Singaporean rice vermicelli, and the Mrs. Guru, being a much more adventurous eater than I, ordered the Cod fish congee. Neither of us had ever had a fish congee before, so we can't judge it based on what it should taste like, but it certainly did NOT taste good to us. I thought that the rice vermicelli was ok, but again, not necessarily what I'm used to for breakfast.
Either way, we were glad we at least tried them, because who knows, maybe Cod fish congee would have become our new favorite dish!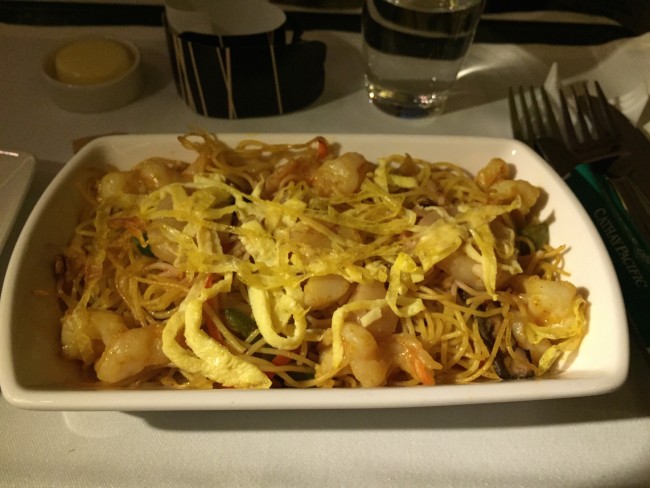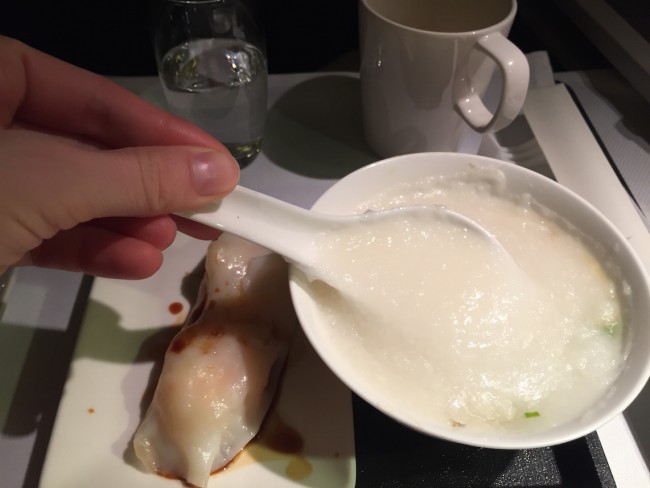 After breakfast was cleared, we only had about 45 minutes left on the longest flight either of us had ever taken. Overall, I really enjoyed the flight – the 2 main negatives were the annoying coughing passenger in 11A, and the constant noise from flight attendants going in and out of the closet in front of my seat. There's obviously not really anything that can be done about annoying passengers, but I definitely would not recommend Row 11 at the front of the Business Class Cabin. Hopefully I'll be able to fly on Cathay Pacific Business Class again in the near future, since the seat was extremely comfortable, and I would just avoid the very first row.
We touched down in Hong Kong almost an hour early, and headed to The Arrival Lounge to grab a shower, and then head into the city for the day.