The Mrs. Guru and I recently got back from a trip to Hong Kong, India, and Thailand and on the way home, we were able to fly on the Etihad A380 First Class Apartment, which no other airline can compete with today: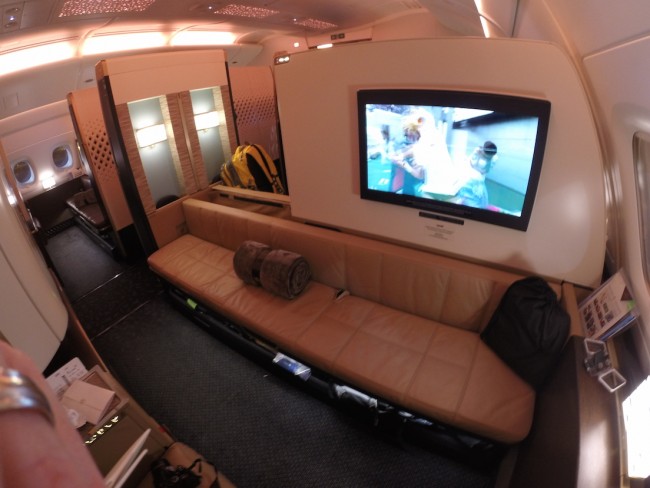 Currently, Etihad only flies the A380 from their hub in Abu Dhabi to Sydney, London, and New York. They do make a decent number of seats available to Sydney and London, but recently it's been almost next to impossible to book the Abu Dhabi to New York flight using miles. When they first announced that they would be flying the A380 to New York, award availability was pretty good (which is when I booked our trip home from India), but it wasn't long before they tightened up, and for a while, there wasn't a single day for the next 11 months where they were making one of the First Class Apartment seats available using miles.
But as of today, as reported on the blog View From the Wing, it is now possible to use miles again for this flight to New York – it's not available every single day, but many days are available. At this point, it only seems to be available in the westbound direction (Abu Dhabi to New York, and not New York to Abu Dhabi), but that certainly could change.
How To Search and Book
You can use American Airlines miles to book this flight, which costs 90,000 miles from anywhere in the India/Middle East region to anywhere in North America. Etihad flies to the Maldives from Abu Dhabi, so this would be an incredible way to fly home from there. To search available flights, go to the Etihad Redemption Search page, and enter your search for the Abu Dhabi to New York leg, selecting First Class: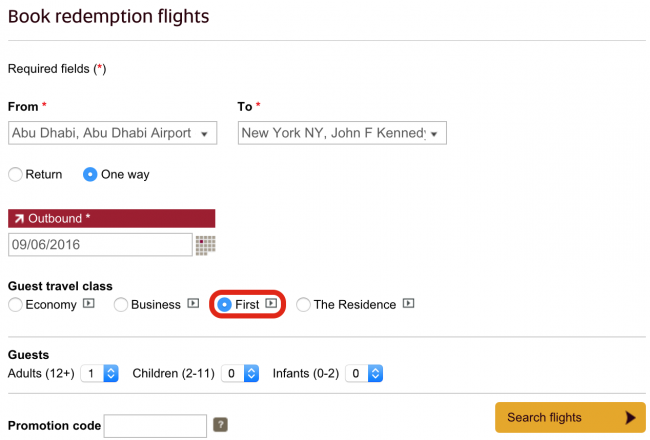 Once you get the search results page, you'll likely see 2 flights (EY 103 and EY 101). You'll notice that EY 103 is operated by the A380, while EY 101 is on a 77W (which is shorthand for the specific model of the 777, the 777-300). Looking in the Guest First Column, if you see availability, you'll be able to book the flight on that day using American miles (you can ignore the number of miles that Etihad quotes in that column – that would be the price if you were booking the flight using Etihad's own miles, but when booking with American miles, as long as there are seats available for award redemptions, American will set the price, which again would be 90,000 miles between India/Middle East and North America):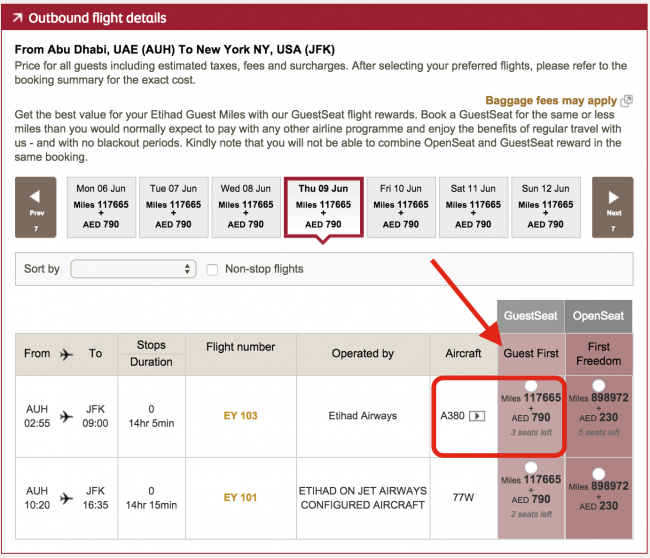 Once you've found a date with availability on the Abu Dhabi to New York leg, I would immediately call American (you can't book Etihad awards online) and ask them to create a new award reservation with that particular flight. American allows awards to be held for 5 days, so then you're guaranteed to lock in that flight. Once you've done that, you can work on finding the connecting flights you need (e.g. from the Maldives to Abu Dhabi, from New York to your home destination, as well as looking into outbound flights).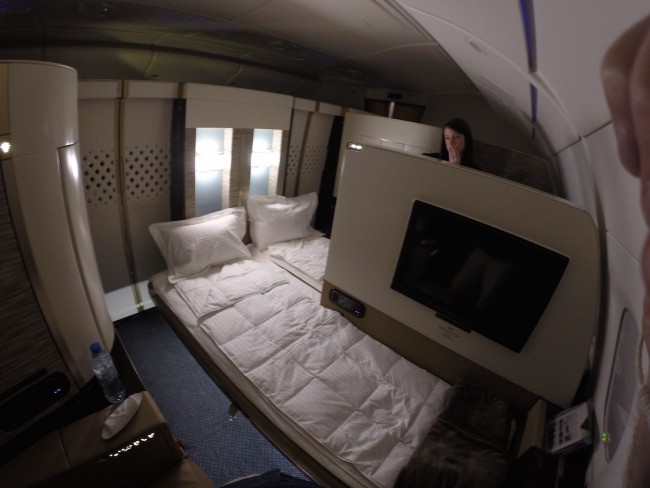 This is by far one of the most incredible flights you will ever take – my full review of our flight will be coming in the near future as I continue writing about that trip, but suffice it to say that it was a truly memorable experience, and I would highly recommend anyone take advantage of this opportunity if at all possible.
As of March 22, 2016, American will be raising the price of almost all of their international awards, so the price of this one way ticket will increase from 90,000 miles to 115,000 miles, and considering how unique the Etihad A380 First Class Apartment is, I wouldn't be surprised if Etihad eventually pulled the plug and stopped letting us book their First Class using American miles. It's hard to know for sure, but I don't see this opportunity being around forever, so now is definitely the time to jump on this, as it may be a once in a lifetime opportunity!