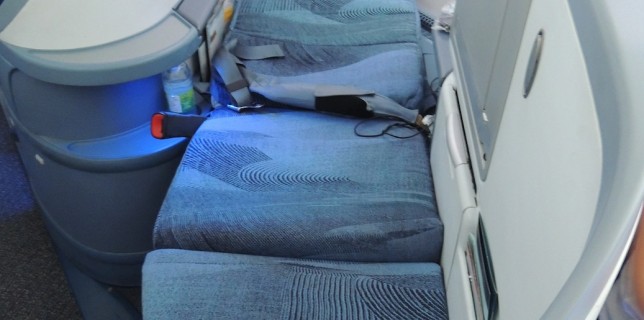 We relaxed in the Air Canada Maple Leaf Lounge for about 90 minutes following our tasty Thai lunch in the Toronto suburbs. The only issue we had with the lounge was that the Wifi was very sporadic and unreliable….but at least it was better than in the Ethiopian Airlines Lounge in Addis Ababa (hooray….I guess…eh?)
Anyway, around 3:30 pm, we headed down from the lounge, which was a floor above the main terminal level. It was only a 2-3 minute walk from the lounge to Gate E76, where our flight would be departing from:.
The boarding area was a bit chaotic, as the gate next to ours, E77, was preparing to board a flight at the same time to Frankfurt.
After about 15 minutes, boarding began for our flight. We were among the first to board, and headed to our comfortable Executive First Suites, our home for the next 10 – well, make that 13 – hours: Continue reading Air Canada Executive First Suite Toronto to Istanbul→