Introduction
American Airlines First Class Greensboro to Charlotte to New York and a Day in NYC
Cathay Pacific Business Class New York (JFK) to Hong Kong
Cathay Pacific Arrivals Lounge and 12 Hours in Hong Kong
Cathay Pacific "The Wing" Lounge and HK Express Hong Kong to Chiang Mai
Le Meridien Chiang Mai and Exploring Chiang Mai (Part 1)
Exploring Chiang Mai (Part 2) and Dusit Princess Chiang Mai Hotel
Thai Airways Bangkok to Delhi and Radisson Blu Connaught Place New Delhi
Exploring Delhi (Part 1)
India Rail Delhi to Agra
Exploring Agra and the Taj Mahal and Radisson Blu Agra Taj East Gate
India Rail Agra to Delhi and Exploring Delhi (Part 2)
Plaza Premium Lounges Delhi and Etihad Airways Business Class Delhi to Abu Dhabi
Etihad Airways Premium Lounge Abu Dhabi
Etihad Airways First Apartment Abu Dhabi to New York
American Airlines First Class New York to Charlotte to Greensboro
---
After a rather efficient day hitting the highlights of Hong Kong (courtesy of our wonderful tour guide Amy), a little before 3:00 pm, we hopped back on the Airport Express train at the Hong Kong Island station. It was a pretty easy, comfortable trip back to the airport for our 5:45 pm flight to Chiang Mai.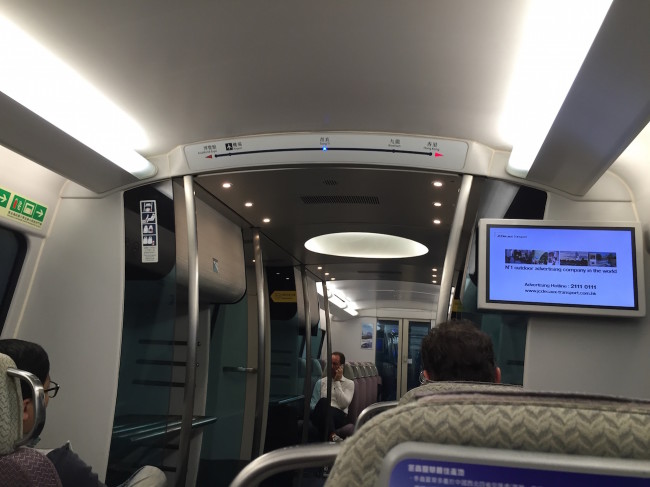 We retrieved our bags from the Left Luggage counter, and headed to the HK Express check in. Since we were still pretty early for the flight, we were checked in quickly, and made our way through security. It was about a 10-15 minute walk from one end of the terminal to the other, where our flight would be leaving out of. Cathay Pacific has several lounges in Hong Kong (The Bridge, The Wing, and ). The closest lounge to our departure gate was "The Wing" lounge, so we headed there.
When entering The Wing, you can split to either the right or the left. The bar and larger food selections are to the right, while showers and a business center with computers are to the left. We didn't necessarily need a shower, so we headed to the right to get comfortable (and of course, getting comfortable entails relaxing with some champagne).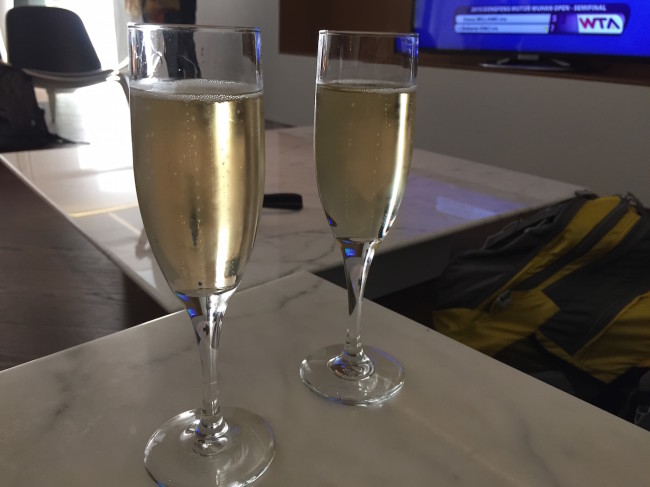 The lounge wasn't huge, and was relatively busy, but not overly crowded. There were still a variety of seats to choose from, and everything felt clean and fresh.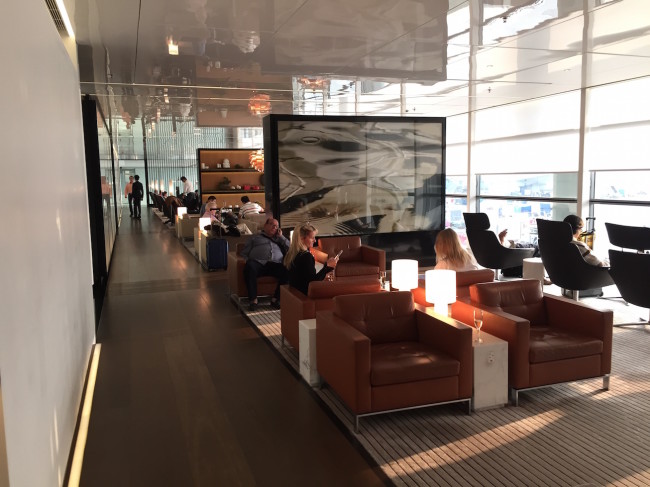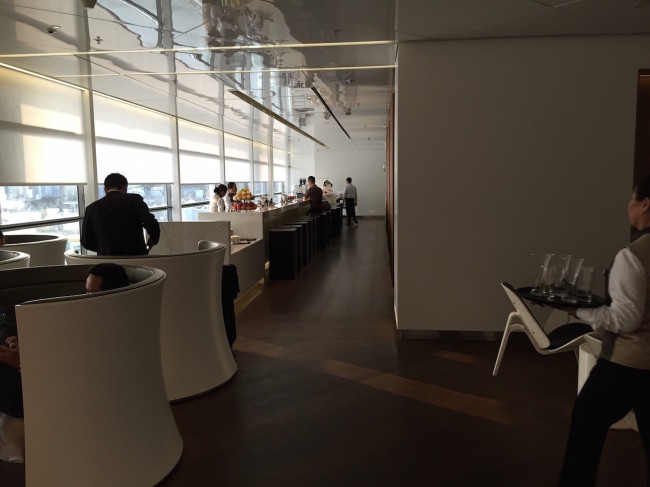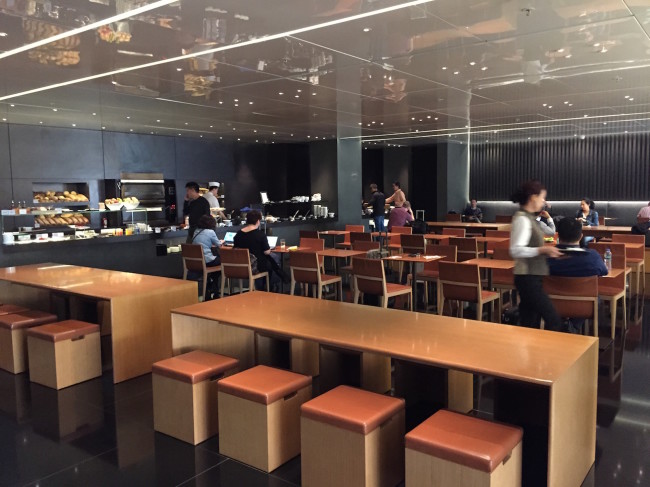 On this side of the lounge, there is a very extensive buffet, offering choices of salads, flatbread pizzas, a huge selection of breads, a few soups, and some hot dishes as well.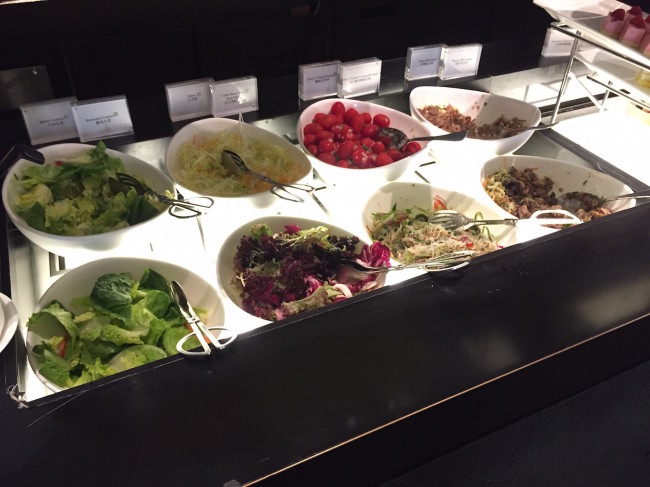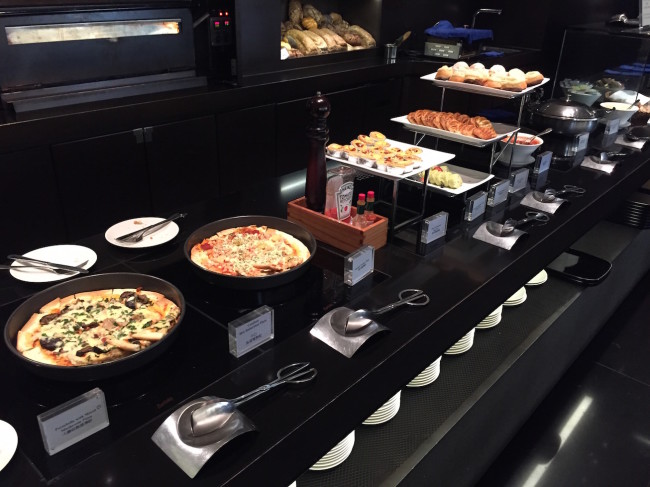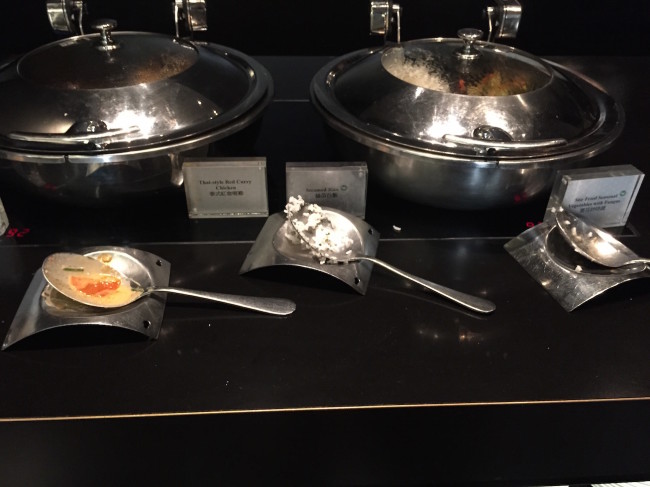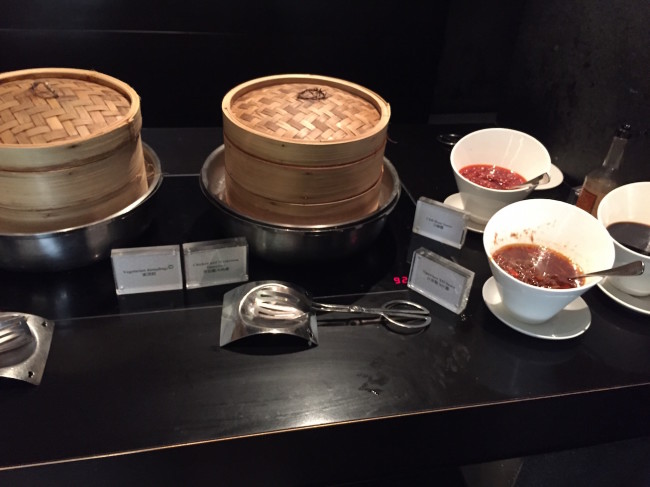 The lounge has great views out over the tarmac, and parked right outside was an Etihad A330, which was fun to see, since our flight home at the end of the trip would be on the Etihad A380 in their First Class Apartments.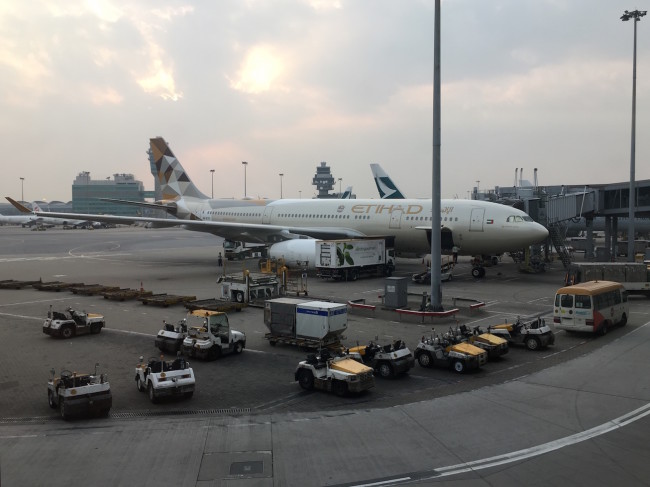 Airports like Hong Kong are fascinating to me, since you can see planes from literally all corners of the world – flights from Vancouver, Dubai, Tel Aviv, Abu Dhabi, Taiwan, Chicago, Beijing, Sydney etc.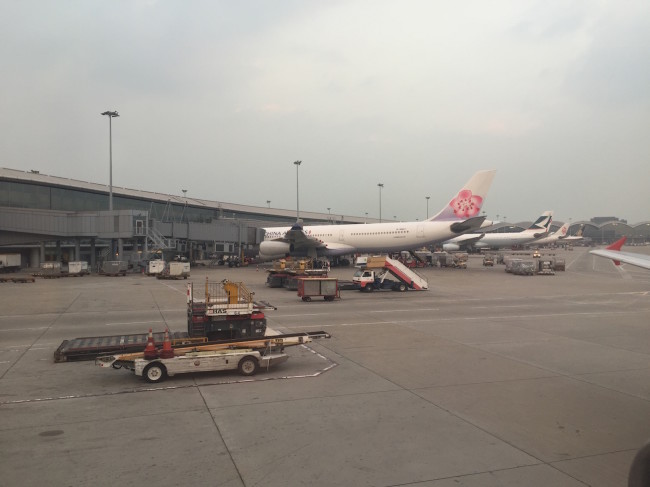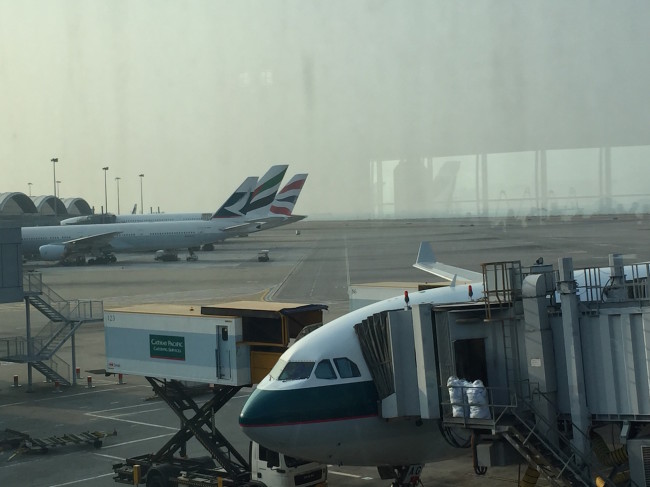 After 45 minutes or so, we made our way to the gate, which was only about a 2 minute walk from 'The Wing." We timed our arrival at the gate about 10 minutes prior to scheduled boarding time, which would get us there at just the right time. Or so we thought. HK Express operates just a single cabin (all Economy), and apparently, they don't really do any boarding groups/zones, so there was a very long – albeit very orderly – line stretching from the boarding door almost to the next gate over. We got in line (and even though we were 10 minutes early for boarding, we were almost the last ones in line), and within a few minutes, boarding started. Overall, the line moved pretty quickly, and it really wasn't a big deal – we've had to deal with way crazier boarding procedures (like in Ethiopia and Bali).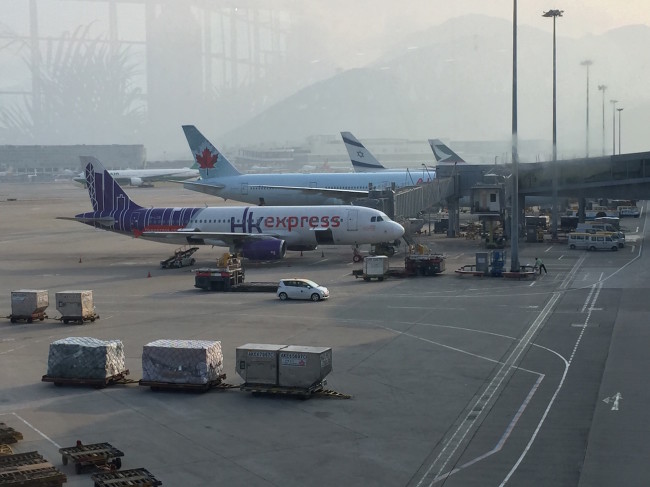 We were seated in Row 1, the bulkhead seat, which had decent legroom, although it was pretty standard for a bulkhead (plenty of room for your knees, but the wall does prevent you from extending your legs straight out. The flight was only about 2 1/2 hours, so it was perfectly fine.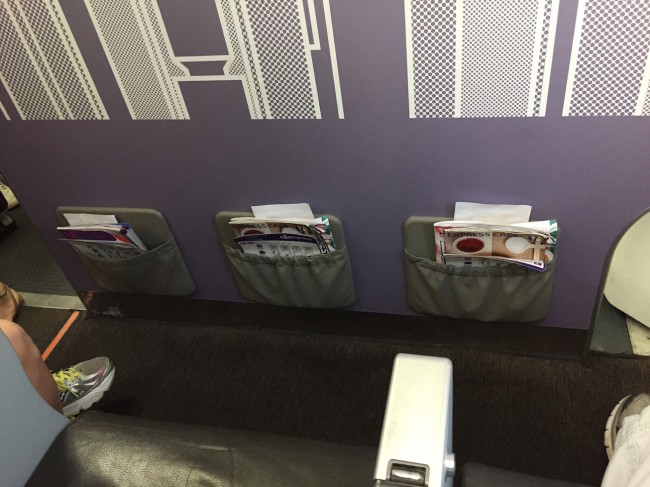 We had the option of purchasing a meal ahead of time, but opted to just wait until we got to Chiang Mai for dinner. We were scheduled to land at 7:40 pm, and our snacks in "The Wing" lounge would hold us over until then.
The flight was overall uneventful, and I would certainly consider HK Express again for another short flight in or out of Hong Kong. There aren't any frills, but they're also not as cheap as airlines like RyanAir, Spirit Airlines, etc. Legroom was normal, the service was kind, so on the whole, it was a pleasant flight to Chiang Mai.
We landed right on time, and taxied up right between 2 Thai Airways 777s. The Chiang Mai airport wasn't very big, so we made it through Customs and Immigration without much trouble at all. We were staying at the Le Meridien Chiang Mai, which offered private car service for only about $15. Now, we knew that Thailand would be very cheap (and we only paid about $3 for our return trip to the airport in the back of an open-air, but covered pickup truck called a songtheaw, which is an extremely common way to get around), but we figured it would be helpful to just take the easy route upon arrival, until we got our bearings with the bargaining.
Our driver was waiting for us when we entered the arrivals area, and when he brought us outside, he quickly ran to his car that was parked somewhere nearby. As we waited for him to return, it was interesting to see other locals coming and going, even by tuk tuk with lots of luggage (we even did this a little later on the trip, in India).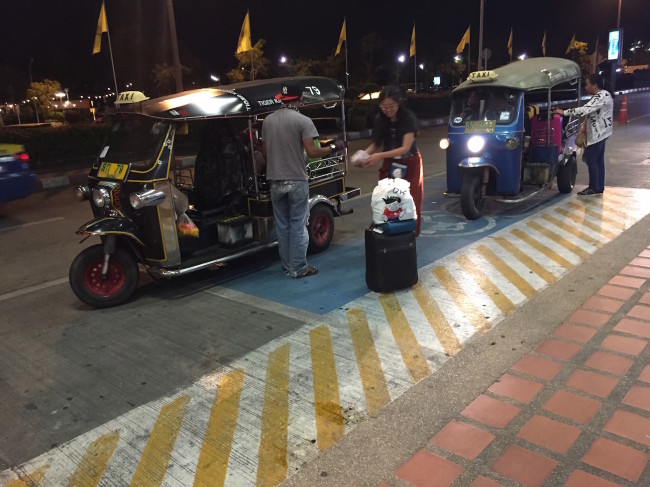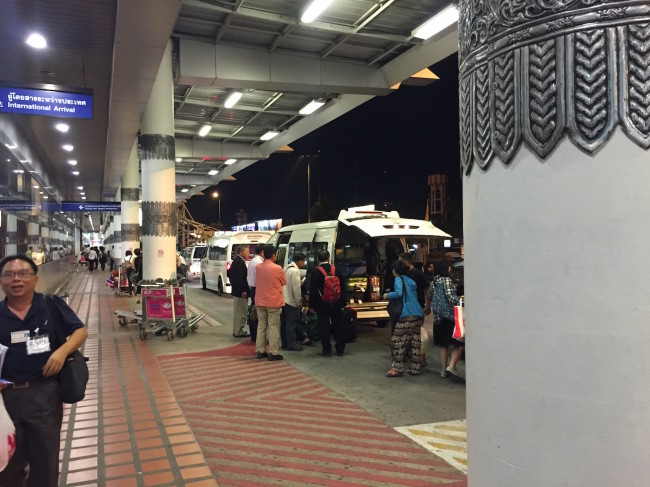 Within just a few minutes, our driver pulled up and helped us into the car. It wasn't too hot outside, but the air conditioning in the car felt great, and there were even bottles of water for us.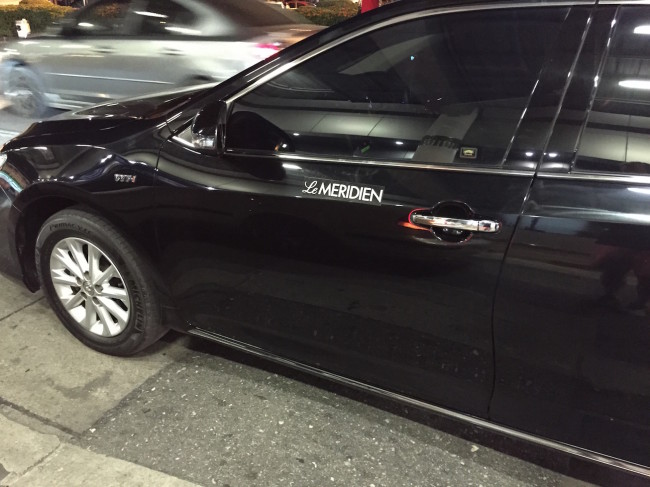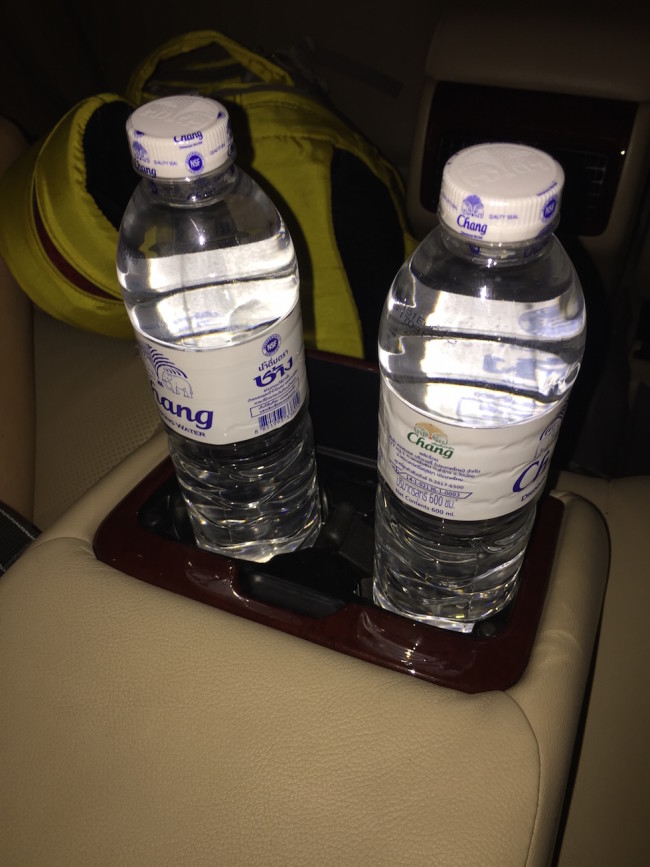 The drive took only about 15 minutes, although traffic got pretty busy getting into the city, with the festivities for Yi Peng and Loi Krathong getting into full swing (more on these later!) We checked in, although our room wasn't quite ready yet, which was a bit surprising since it was about 8:30 pm…but the hotel was completely booked up with the festivals, so I'm sure they were very busy.
In the lobby, a complimentary evening happy hour is offered for Starwood Platinum members, with beer, wine, and snacks, so we were brought over to that area while they finished getting our room ready. We just barely had time to finish a glass of wine, when the concierge approached us to let us know our room was ready.