Introduction
American Airlines First Class Greensboro to Charlotte to New York and a Day in NYC
Cathay Pacific Business Class New York (JFK) to Hong Kong
Cathay Pacific Arrivals Lounge and 12 Hours in Hong Kong
Cathay Pacific "The Wing" Lounge and HK Express Hong Kong to Chiang Mai
Le Meridien Chiang Mai and Exploring Chiang Mai (Part 1)
Exploring Chiang Mai (Part 2) and Dusit Princess Chiang Mai Hotel
Thai Airways Bangkok to Delhi and Radisson Blu Connaught Place New Delhi
Exploring Delhi (Part 1)
India Rail Delhi to Agra
Exploring Agra and the Taj Mahal and Radisson Blu Agra Taj East Gate
India Rail Agra to Delhi and Exploring Delhi (Part 2)
Plaza Premium Lounges Delhi and Etihad Airways Business Class Delhi to Abu Dhabi
Etihad Airways Premium Lounge Abu Dhabi
Etihad Airways First Apartment Abu Dhabi to New York
American Airlines First Class New York to Charlotte to Greensboro
---
Our 8072 mile, 15 hour flight from New York to Hong Kong landed at about 4:35 am, which sounds insanely early, but we had already been up for about 4-5 hours for breakfast (and given that the flight left around midnight, after 10 hours, we couldn't really sleep anymore!) so it felt like mid-morning at that point. We made our way through Customs and Immigration, which was a breeze since we were one of the first flights to arrive that morning, and soon found ourselves in baggage claim. It took us a few minutes to find the aptly-named "The Arrival" lounge, but we were there by about 4:55.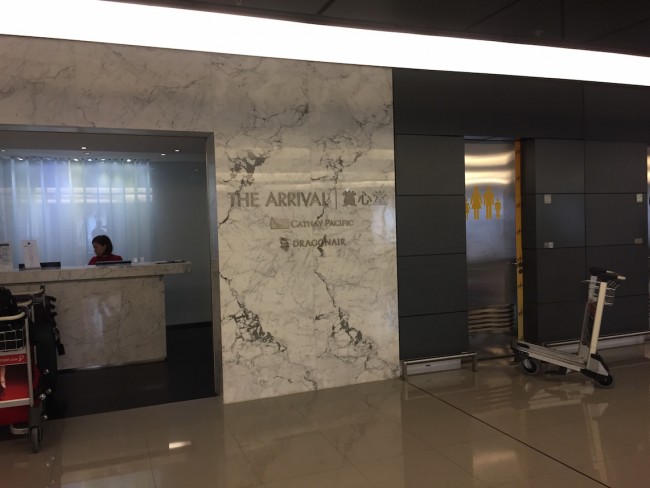 The lounge didn't open until 5:00, so a few other people were gathered around the entrance, but at 5:00 on the dot, the doors open and we were promptly admitted. I have to say, I was a bit surprised at how small the lounge was – it was essentially one rectangular room, with a handful of overstuffed chairs in the front, about a dozen bar stools along the right side wall, and about 6-8 seats at a table just beyond the magazine rack seen below.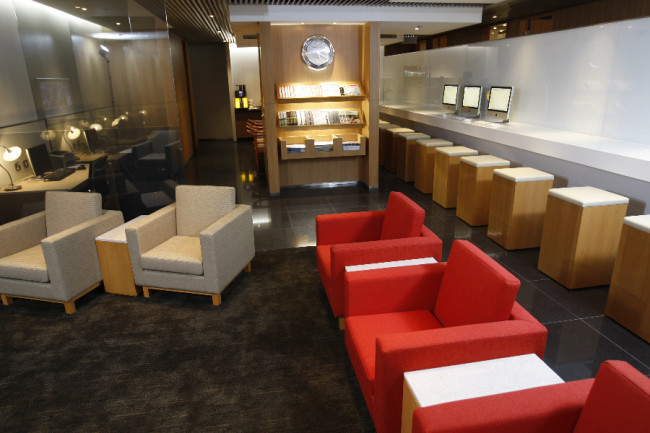 When checking in, both the Mrs. Guru and I asked for a shower suite right away, and we were each escorted to our showers. I didn't see exactly how many shower suites the lounge had, but I would guess that there were about 6 of them. The rooms were immaculate, and spacious enough – perfect for freshening up after a super long flight.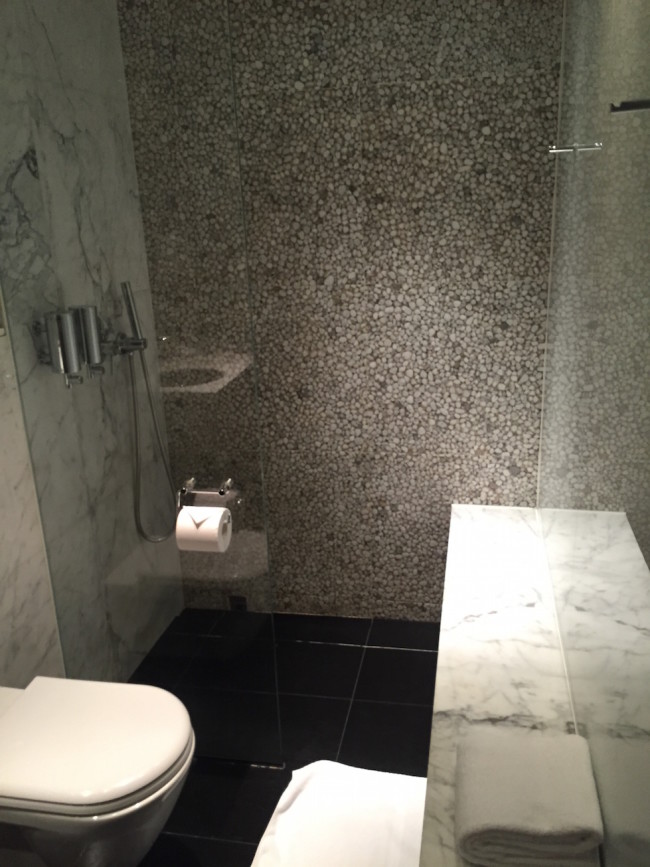 After showering, I made my way back out to the main part of the lounge, which had filled up considerably. Most seats were taken, but there were a few bar stools open. On the very back wall was a buffet breakfast, with a semi-decent number of options (noodles, eggs, fruit, pastries, dry cereal, etc.) While it wasn't an amazing breakfast, it was sufficient enough to add to the breakfast we had eaten on the plane (which, at this point, was about 3 hours earlier).
After grabbing a bite to eat, we stored our luggage at the Left Luggage counter, and easily made our way to the Airport Express train, which wasn't far from The Arrival.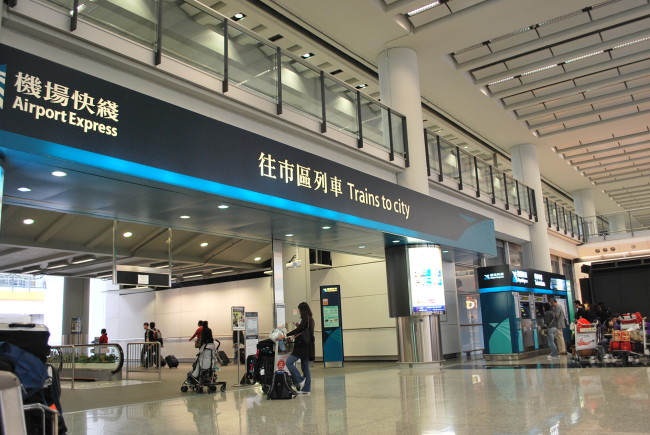 The train was very clean and comfortable, and took just 24 minutes to get into the city.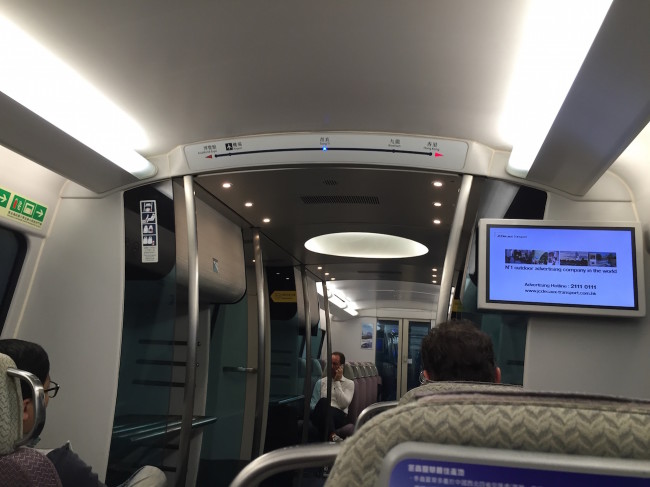 There are 2 main stops for the Airport Express Train: Kowloon Station (part of the mainland) and Hong Kong Island, off the south coast of the mainland. We had arranged for a Tour Guide to meet with us and show us around for about 4 hours. We used Amy from Hong Kong Greeters, and the spoiler alert is that she was absolutely fantastic. We instantly felt like we were touring the city with a long-time friend, and truly enjoyed our tour. I texted Amy on our way into the city to let her know that we had arrived and would be getting in a little early, and she even rushed out to meet us early.
We met Amy at Kowloon Station as the sun was coming up (and the haze was still burning off).
One of the great things about Amy's tour is that she made a point to take us on as many different modes of transportation as possible: minibus, subway (MRT), tram, double decker bus, ferry, etc. We navigated down to the street level and hopped on a slightly sketchy-looking minibus, that we may not have gotten on ourselves if it weren't for Amy, but it took us twisting and turning through busy streets (and a fair amount of construction) for about a 10 minute ride to Tsim Sha Tsui (or TST for short), along the southern bank of Kowloon.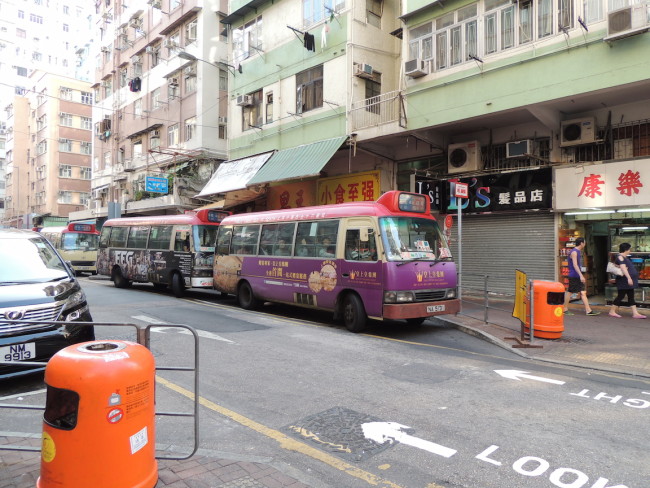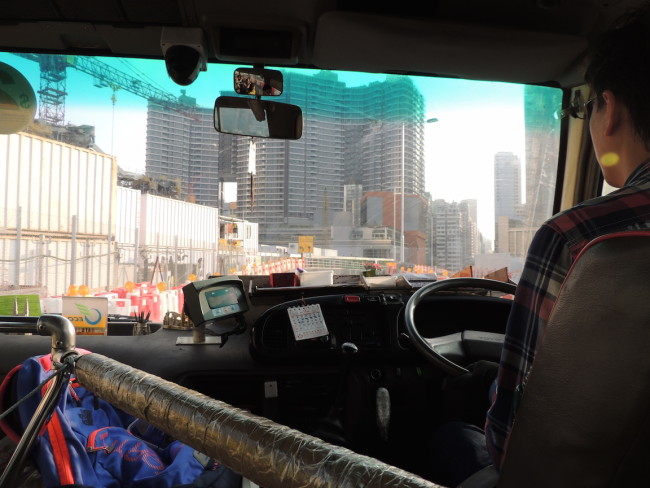 Once we arrived, Amy showed us the old Marine Police Headquarters building and the luxurious Peninsula Hotel.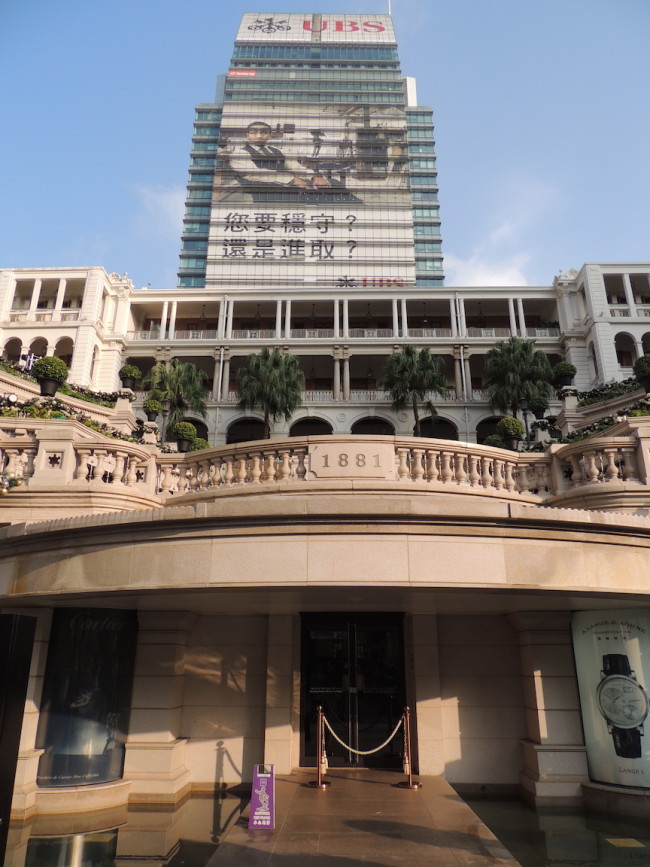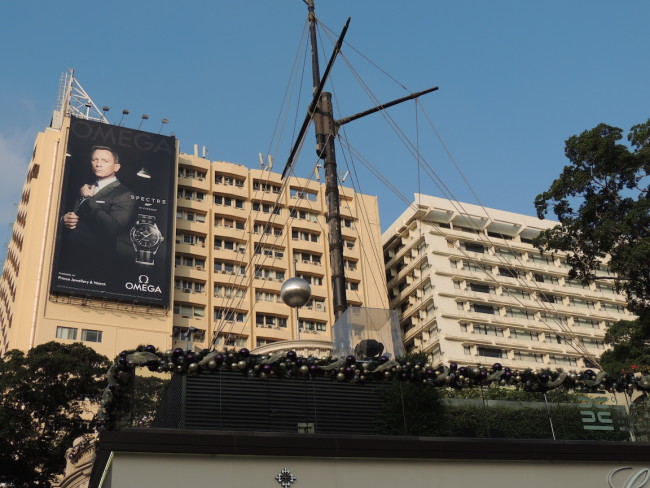 From there, we walked along the water, where we saw groups of locals participating in a morning tai chi session. Next, we hopped on the MRT for a few stops to the Mong Kok area (just a bit north of Kowloon) trough the gorgeous outdoor flower markets, with block after block of every type and color of flower imaginable.
Essentially next to the Flower Market was the Bird Market, with birds and cages galore. It stems from the ancient Chinese tradition of keeping songbirds as pets, and is an area where folks can bring their birds, socialize with other bird-owning locals, and enjoy the sounds and variety of birds in the shops lining the sidewalks.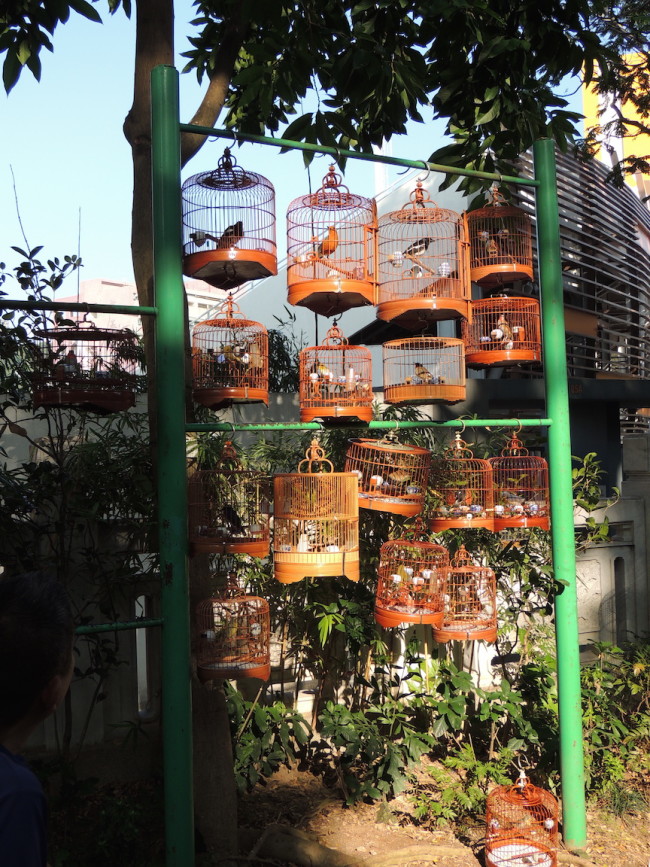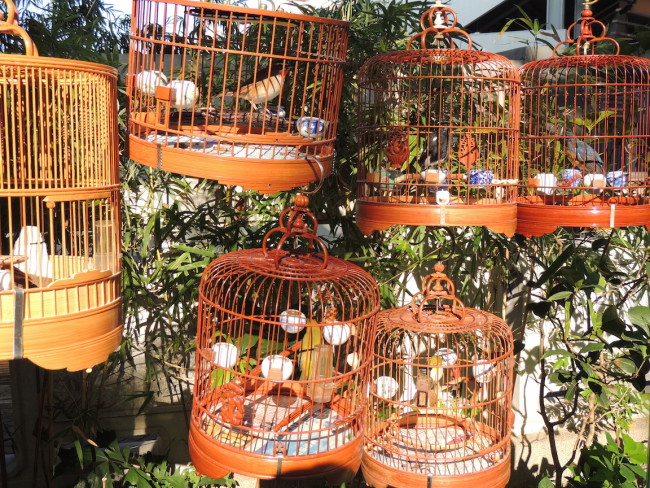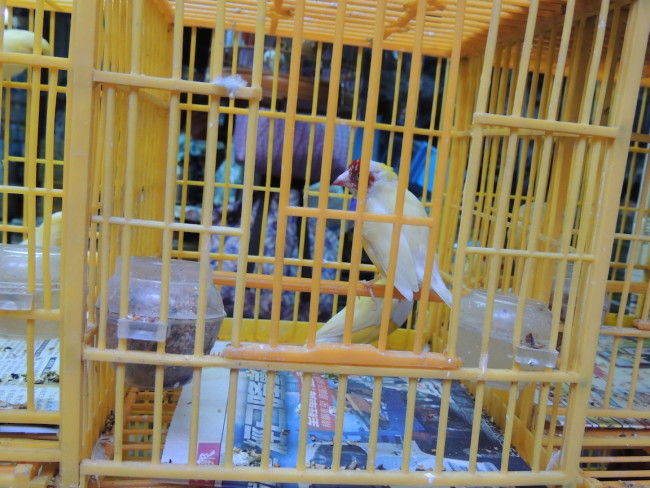 After the Bird Market, we also strolled through the Goldfish Market, which doesn't require too much explanation…just a ton of shops with all types of fish: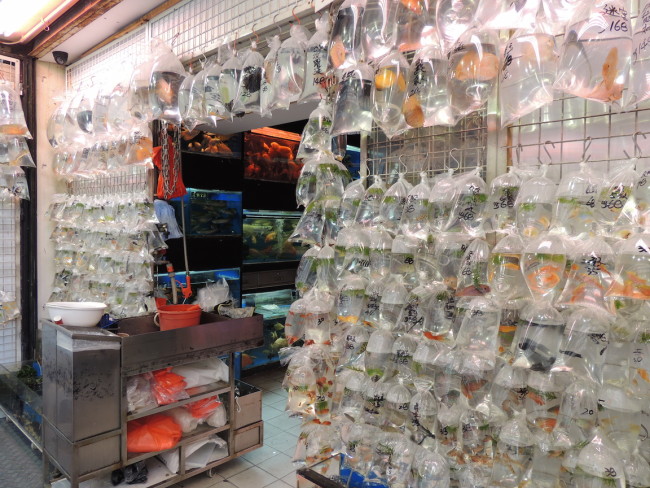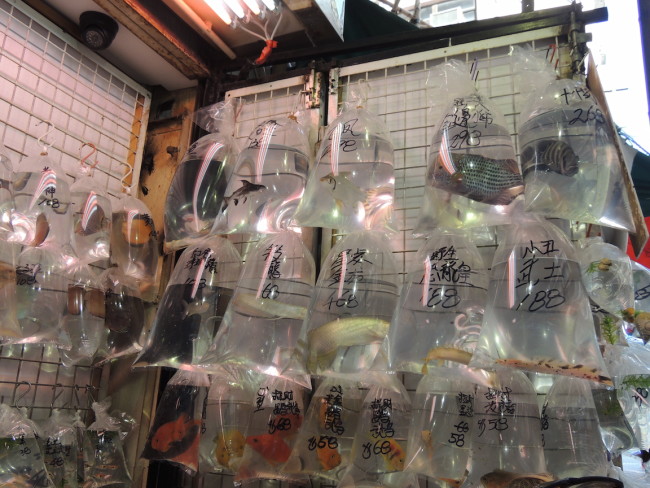 After the markets, we headed back down to Kowloon to take the ferry across to Hong Kong Island.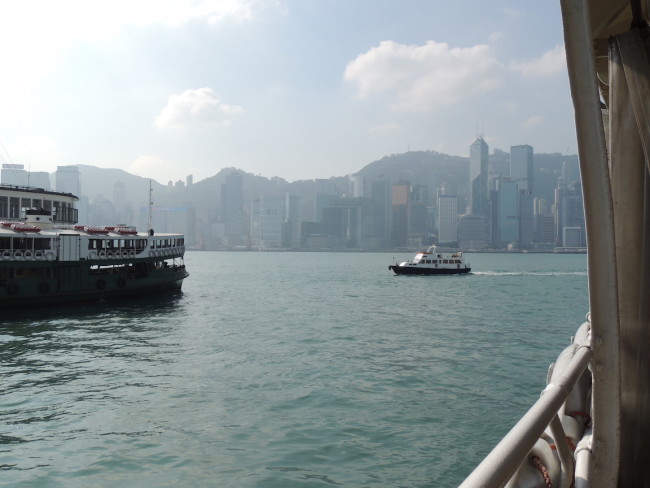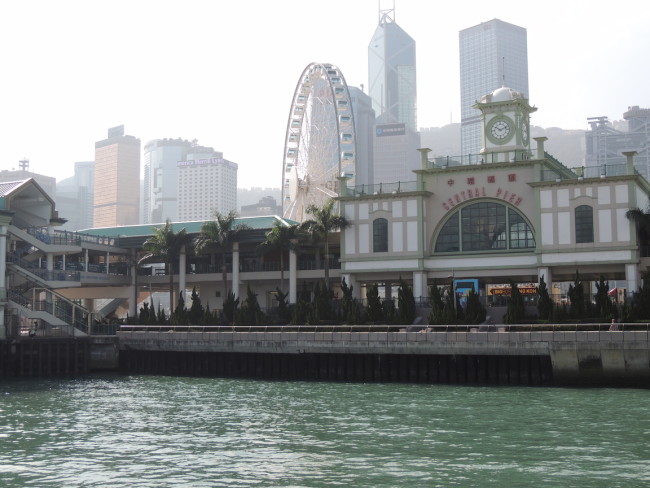 Once on Hong Kong Island, Amy gave us the history of how Hong Kong Island has been extended in size (towards Kowloon) to accommodate the building of skyscrapers on the island. We took a tram around a little ways to see a bit more of the island. Heading inland (further south) on the island, the terrain gets mountains and the elevation increases very quickly. Roads are relatively steep heading up the mountain, and as a result, they've built one of the most fascinating engineering marvels I've ever seen: the Mid-Level Escalators.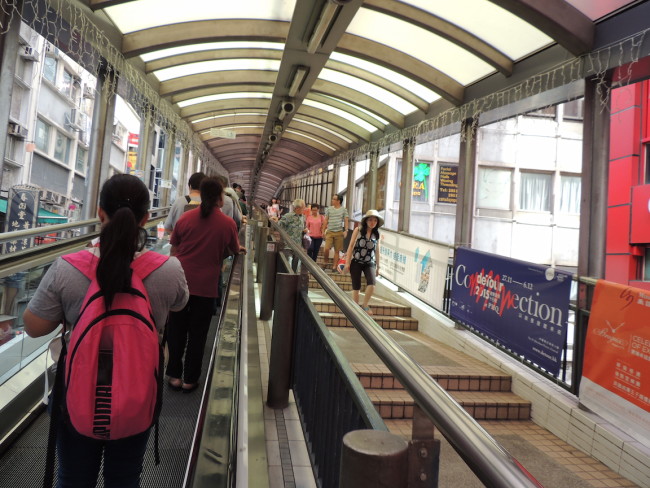 As vehicle traffic increased as people commuted up and down the slopes (in the mornings, they'd drive down to the office buildings on the coast from their homes further up the mountains, and commute back up in the evenings). As traffic congestion become an increasing issue, a series of escalators and moving sidewalks was constructed that spans half a mile in distance, and about 450 ft in height. In the mornings (6:00 – 10:00 am), the escalators run downhill, and from 10:30 am until midnight, they run back uphill. Everyday, about 87,000 people commute on the escalators, which was actually featured as one of CNN's 7 Coolest Commutes in 2015.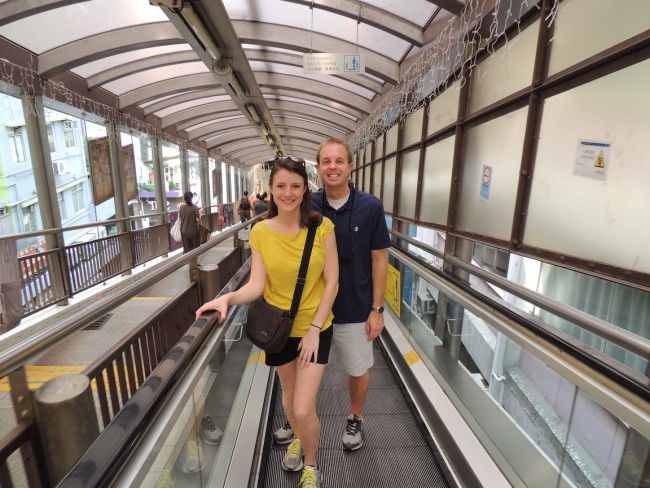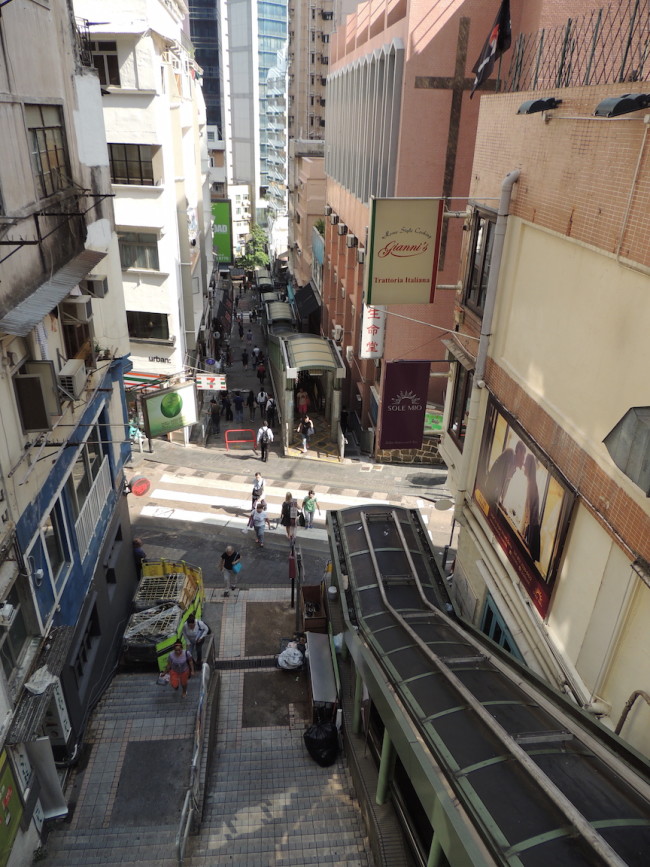 We passed through a few other meat and fish markets, which isn't exactly how we're used to buying food in the US, but was fascinating to see.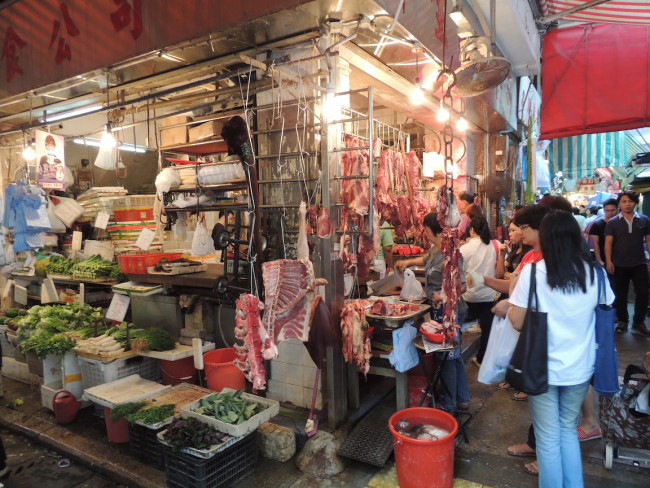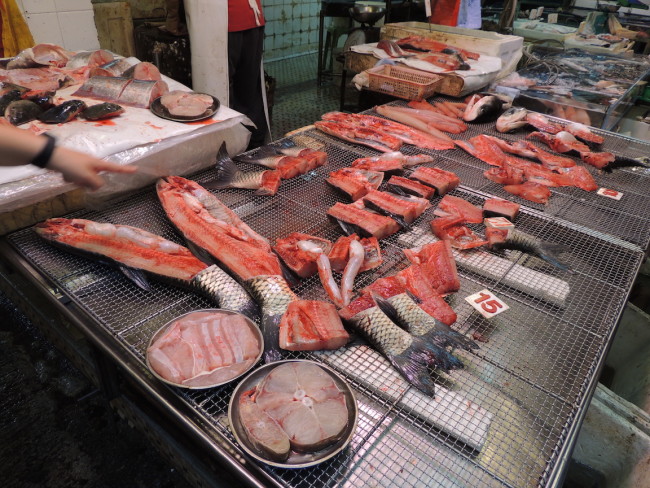 We were getting a bit hungry, so we popped into a pastry shop, where Amy gave us several delicious recommendations. I don't remember exactly which ones we ate, but I think 1 was stuffed with BBQ shredded pork, and 1 was stuffed with chicken.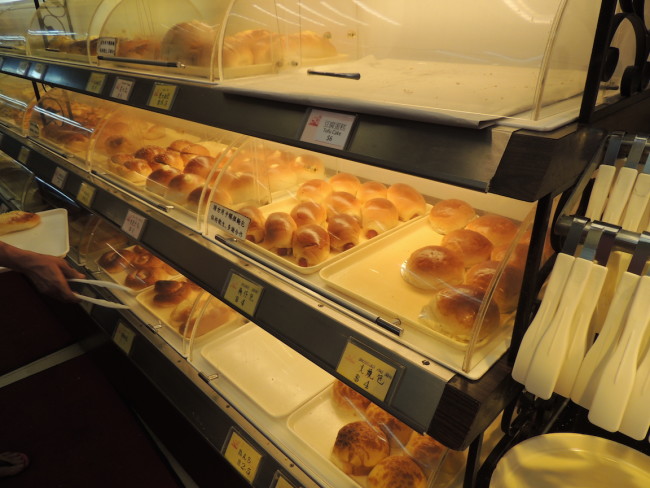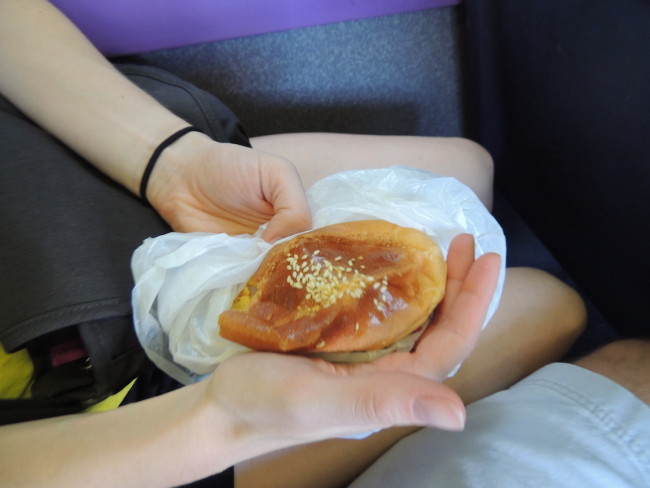 After getting our pastries, our time with Amy was coming to a close, but she brought us to the bus stop where we could ride all the way to the top of Victoria Peak, boasting the famous view over all of Hong Kong. Amy's insider knowledge was a huge help, as there are 2 main ways to get up and down Victoria Peak: regular bus and the Peak Tram.
The Peak Tram is the famous (and more scenic way) to make the journey, so everyone who comes over to Hong Kong Island always heads to the Tram Stop at the base of the mountain. As a result, the queues there can be very long (30-45 minutes). Amy recommended that we take the bus up the mountain, and then take the tram back down the mountain, which is exactly what we did.
The double-decker bus ride was perfectly comfortable, and still offered great views on the way up. When we reached the top, Amy instructed us to walk just a little ways past the restaurant and shops, where the view is perfect. There is an additional elevated platform that you can pay to enter, but the view is hardly any different.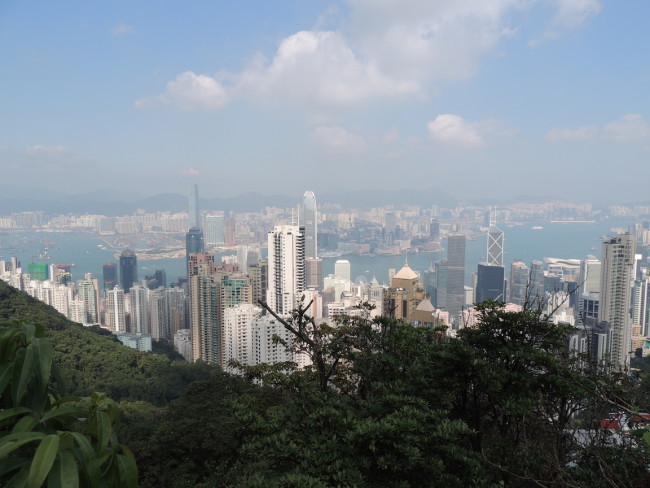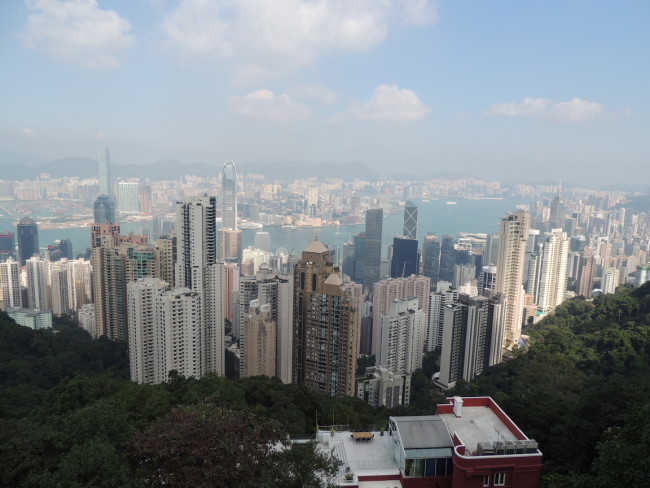 After taking in the view, we made our way to the Tram Stop, which had a minimal line (just as Amy had explained), and in a few minutes, we were on our way down the steep track.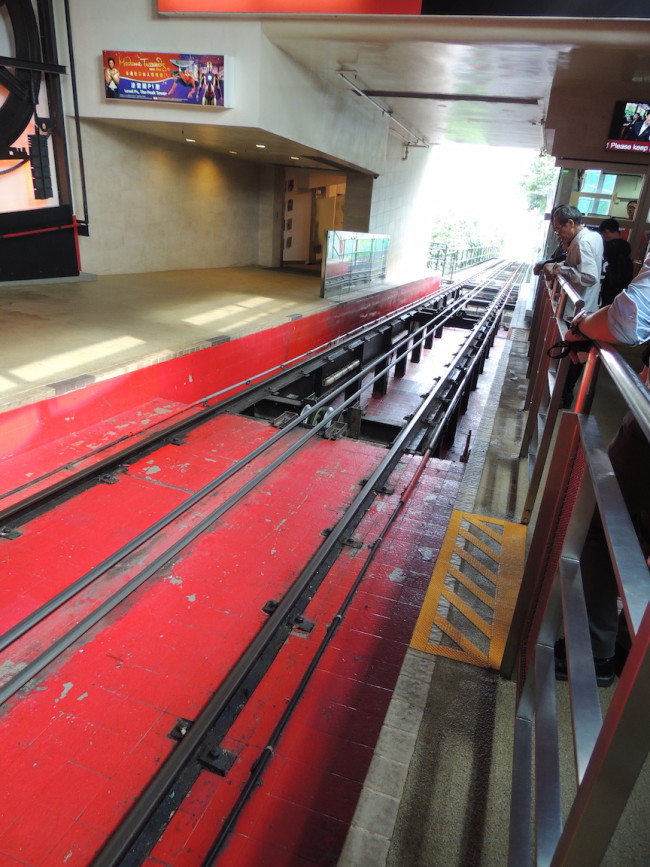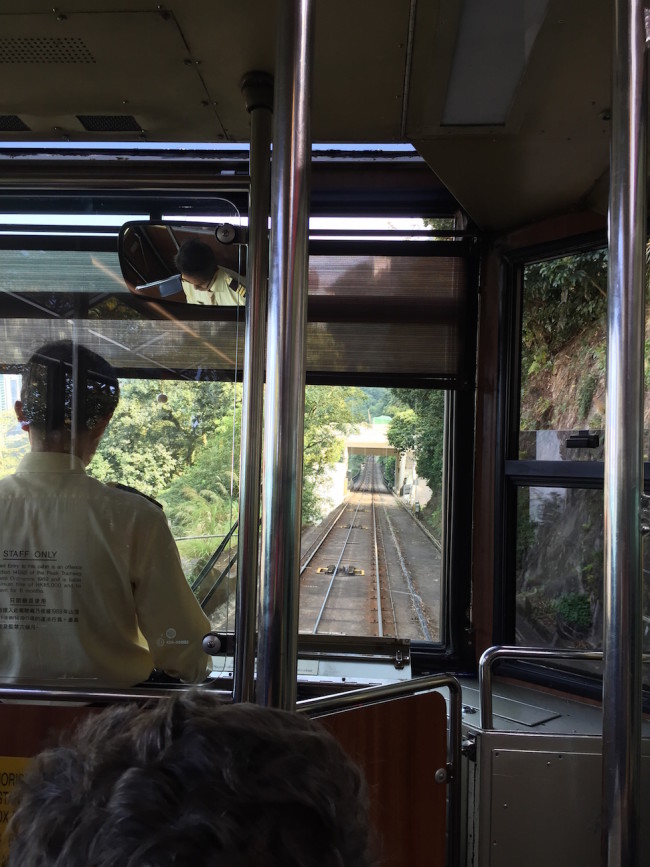 When we reached the bottom, we grabbed lunch at a dim sum restaurant that Amy recommended, called Maxim's Palace Restaurant, which was back near the ferry pier. After a delicious lunch, we walked a few blocks to the Hong Kong Island Airport Express station, where we zipped back to the airport, after an amazing, full day in Hong Kong.
I would highly recommend anyone visiting Hong Kong to reach out to Amy for a tour – we never would have seen as much as we did without her guidance. If we pass through Hong Kong again, we'll definitely try to meet up with her!