Introduction
American Airlines First Class Greensboro to Charlotte to New York and a Day in NYC
Cathay Pacific Business Class New York (JFK) to Hong Kong
Cathay Pacific Arrivals Lounge and 12 Hours in Hong Kong
Cathay Pacific "The Wing" Lounge and HK Express Hong Kong to Chiang Mai
Le Meridien Chiang Mai and Exploring Chiang Mai (Part 1)
Exploring Chiang Mai (Part 2) and Dusit Princess Chiang Mai Hotel
Thai Airways Bangkok to Delhi and Radisson Blu Connaught Place New Delhi
Exploring Delhi (Part 1)
India Rail Delhi to Agra
Exploring Agra and the Taj Mahal and Radisson Blu Agra Taj East Gate
India Rail Agra to Delhi and Exploring Delhi (Part 2)
Plaza Premium Lounges Delhi and Etihad Airways Business Class Delhi to Abu Dhabi
Etihad Airways Premium Lounge Abu Dhabi
Etihad Airways First Apartment Abu Dhabi to New York
American Airlines First Class New York to Charlotte to Greensboro
---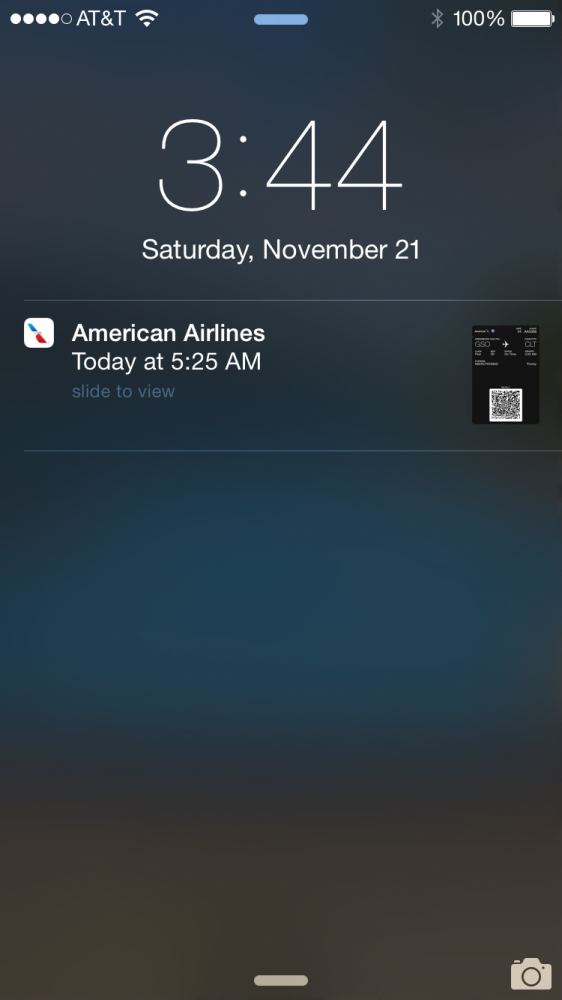 I always question myself when I book these painfully early flights, but in this case, we were starting our trip, flying from Greensboro to New York on Saturday, November 21, which was the Saturday before Thanksgiving. As a result, finding award availability was a bit tricky, so our only real option was to leave super early in the morning. The good news was, we would be in NYC by about 9:30 am, so we would have the full day in the city.
We were mostly packed the night before, and soon headed out the door in the dark.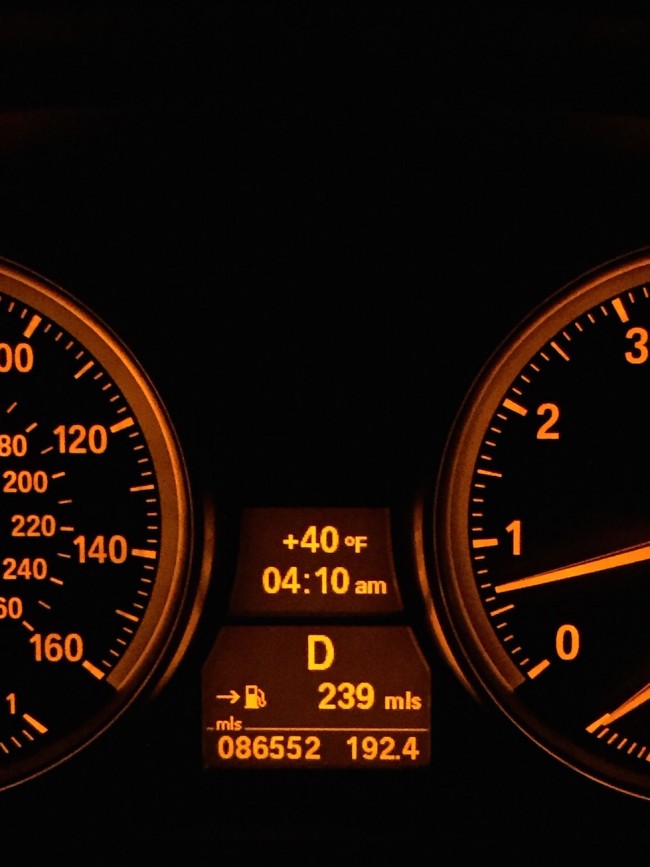 We pulled into the Greensboro airport around 4:40 am, and had already checked in online. The American check in counter was actually bit busy, since American has several departures before 6:00 am (yes, this is busy for Greensboro).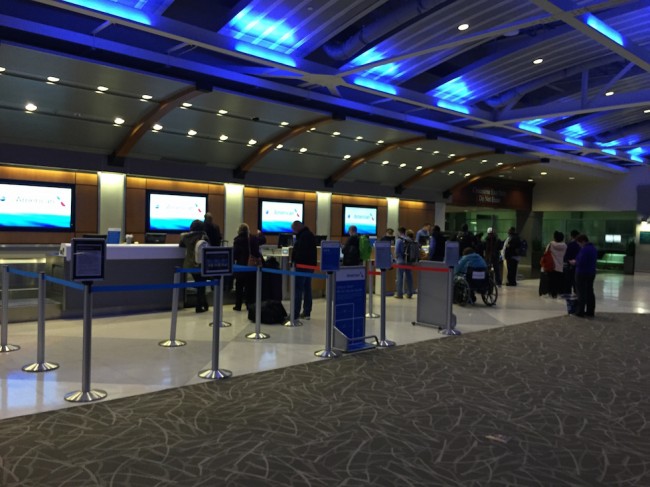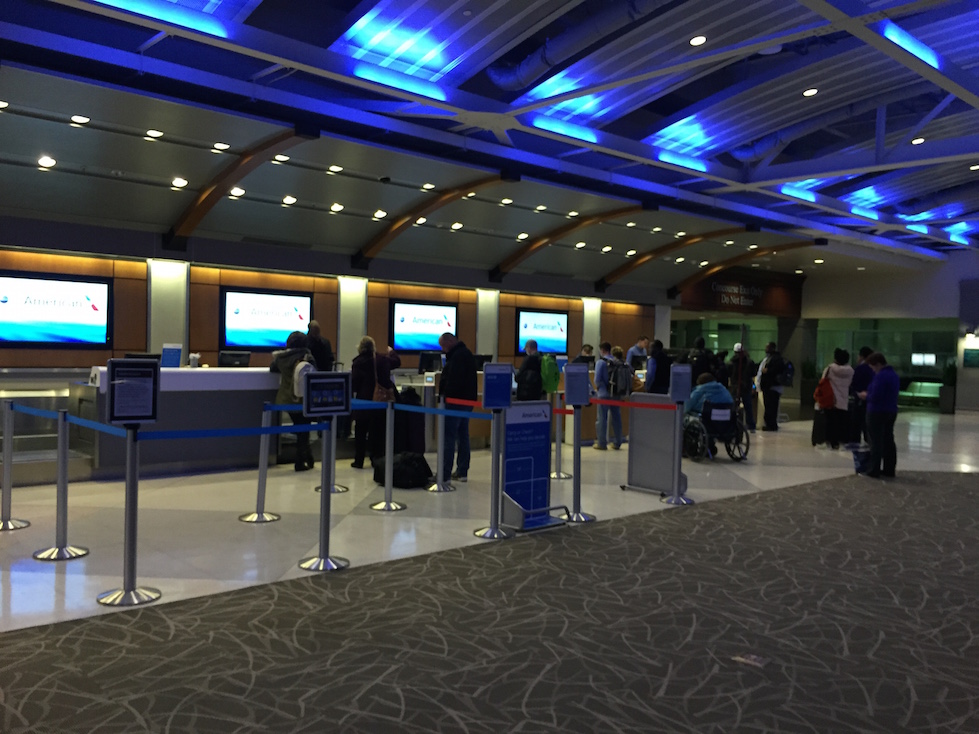 We headed straight to security, where we were the only passengers in the Pre-Check line. I'm thrilled everytime I fly out of Greensboro, since I haven't found a time yet that they don't offer full Pre-Check, unlike many major airports (I'm looking at you Philadelphia and Newark, among others) where they only offer Pre-Check screening at certain hours. In any event, we were through security and at Gate 44 in no time, with about 10 minutes before boarding started.
AA 5366 (Greensboro to Charlotte)
November 21, 2015
Depart GSO 5:25 am Arrive CLT 6:19 am
CRJ-900: Seats 3D, 3F

Boarding began around 5:00, starting with First Class. As with almost all of our trips, we were able to squeeze everything we needed for this 11 day trip in 2 fully-loaded carry-ons (we each had our Tumi 22″ rollaboard and a backpack). We left the rollaboards at the end of the jet bridge, and stepped on a relatively newly refurbished CRJ-900. The First Class on these refurbished regional jets is really pretty decent. The seats are comfortable, and the legroom is plenty for a short flight. The angle in the picture below makes it look a little tighter than it is: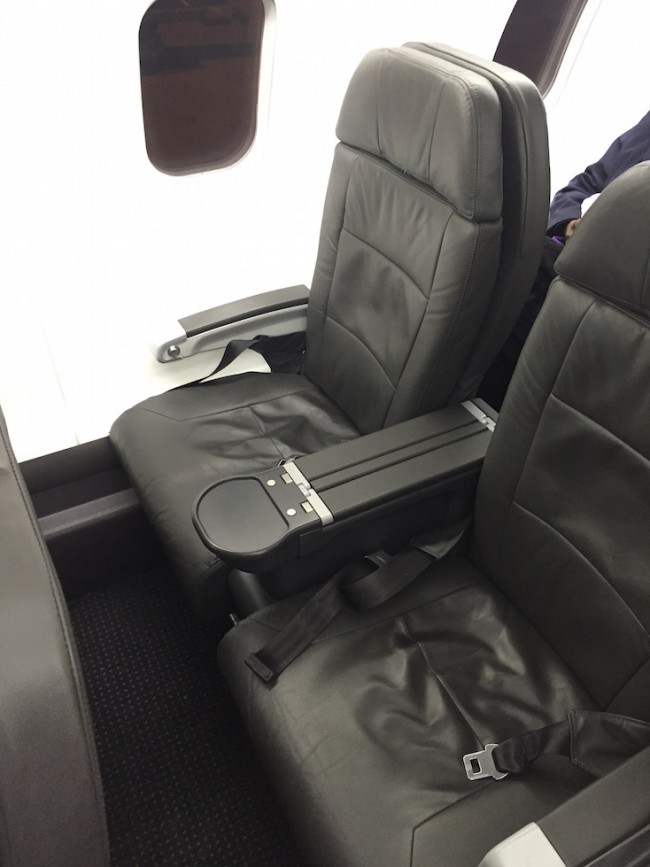 We were plenty comfortable for the ~25 minute flight down to Charlotte, which was relatively uneventful. The flight attendant did serve beverages, which is typical in First Class on this flight, but Economy rarely receives a drink service at all since the flight is so short. We touched down in Charlotte around 5:50, with only a hint of daylight appearing. We taxied in to Gate E10, pulling in about 20 minutes early.
Charlotte has 2 Admirals Club Lounges: 1 in Terminal B, and 1 between Terminals C and D. Our flight up to New York would be leaving out of Gate C17. so we made our way over to the C/D lounge, which is the larger of the 2. It was still extremely quiet in the lounge, since we were one of the very first arrivals of the morning.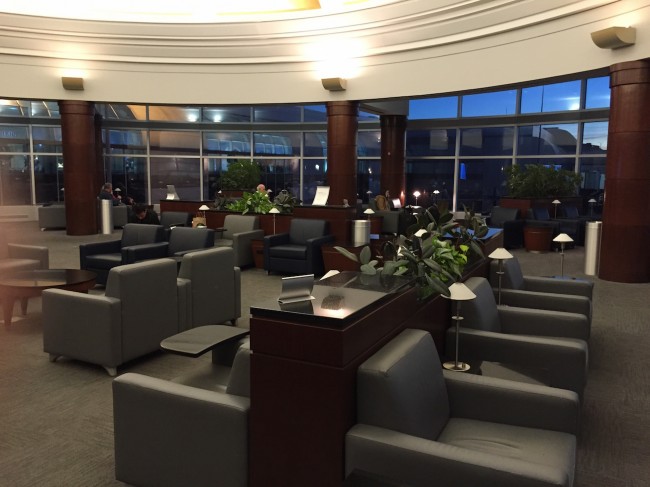 We relaxed for a few minutes, while the sun came up: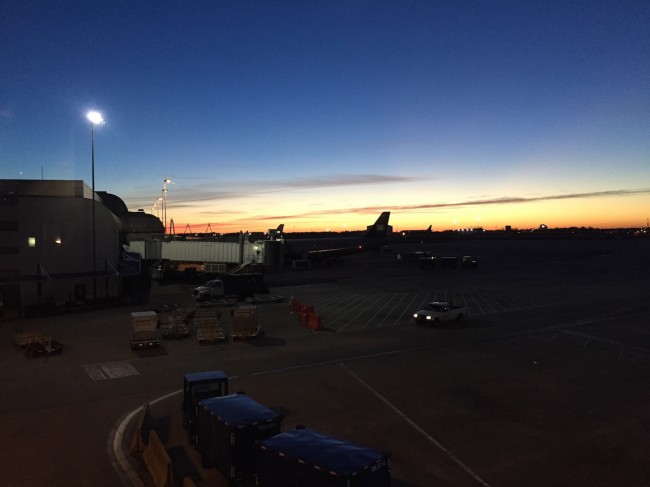 In the morning, the lounge has a relatively minimal breakfast offering, including bagels, cereal, yogurt, a few fruit selections, and some mini muffins. We snacked a little bit, and before long, it was time to head out to our flight to New York.
AA 2042 (Charlotte to New York-JFK)
November 21, 2015
Depart CLT 7:30 am Arrive JFK 9:20 am
Airbus A319: Seats 2A, 2C
It only took 6-7 minutes to walk the length of Terminal C, from the lounge to Gate C17, located at the end of the terminal. Boarding was just about to begin when we walked up, so we soon settled in to our seats in row 2. I know some people prefer the bulkhead seats, but as with most domestic aircraft, Row 1 of the Airbus A319/A320/A321 has somewhat limited legroom. You do have the benefit that no one will recline in front of you, but the bulkhead also has the additional restriction of not having any storage in front of you, so all items have to be placed in the overhead bin. Since overhead space tends to fill up relatively quickly these days, I think that can be somewhat of a hassle. Of course, being in First Class, you'll definitely get overhead space somewhere, but it may be a few rows behind you. If you don't need anything out of your bag during the flight, that's not too big of a deal, but it's still a pain to have to fight upstream after landing to get your bag from a few rows back. So, since I often use my laptop in-flight, and would have to store it in the overhead for takeoff, I much prefer not being in the bulkhead row in First Class.
Soon after boarding, we were offered a pre-departure beverage, which seems to be hit-or-miss these days in American Airlines First Class.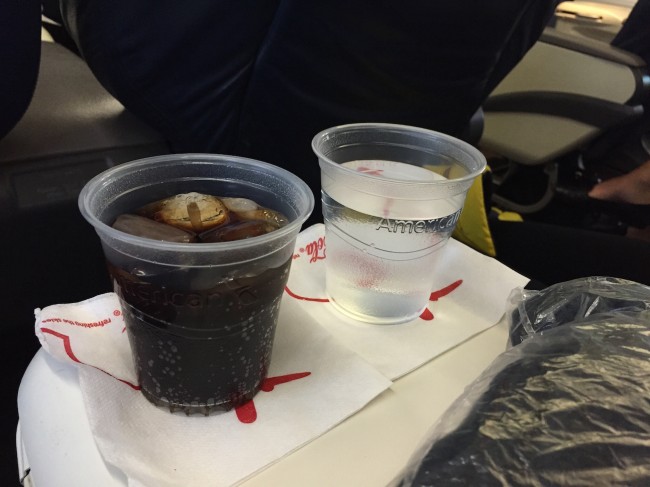 I did see a recent memo, reminding flight attendants to offer a beverage to First Class passengers if at all possible, since it sets a positive first impression. Of course, it's certainly not the end of the world if one isn't served, but if I have a tight connection or just finished eating a quick meal before the flight, it can be nice to have a drink before takeoff.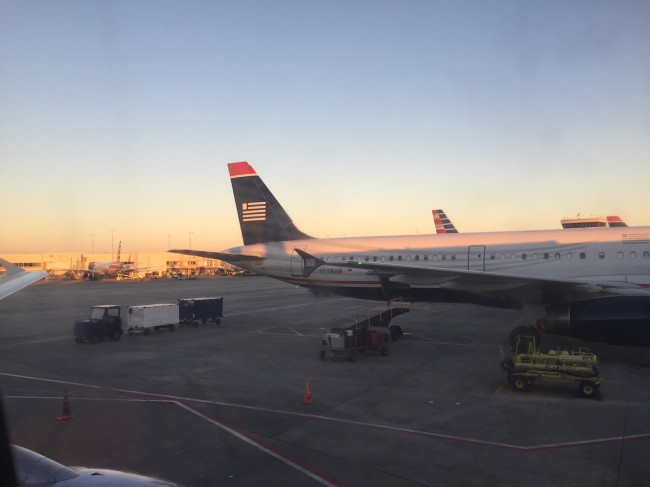 Since the flight was scheduled for less than 2 hours, the only meal service on the flight was the basic snack basket, which simply has packaged choices of potato chips, fig bars, nuts, white cheddar popcorn, and a few other munchies. Neither of us opted for anything, as we had eaten breakfast in the lounge.
The flight up to New York was smooth, and we again touched down early, making it to the gate around 8:55 am, about 25 minutes early. As we were taxiing, I noticed a Cathay Pacific 777, which was parked at the gate, ready for the 9:00 am departure that they have to Hong Kong. We would be flying on an identical flight, JFK to Hong Kong on a Cathay Pacific 777 in about 16 hours, departing at 12:55 am, so we had the rest of the day to hang out in the city.
When we got off the plane, I stopped at the counter of our arrival gate, and asked the agent there if he was able to print our connecting boarding pass for that night to Hong Kong, since we only had mobile boarding passes for our morning flights on American (Greensboro to Charlotte, and Charlotte to New York). He wasn't able to print them, and said that we could only get them at the Cathay Pacific check in counter. During this conversation, a woman nearby came up to me – she spoke practically no English, but had overheard us talking about "Hong Kong" and seemed very frazzled. She had a piece of paper that she pointed to, and I saw that she was on Cathay Pacific's other daily flight to Hong Kong, departing at 1:55 pm. We were in Terminal 8, and Cathay Pacific departs out of Terminal 7 at JFK, which obnoxiously requires you to exit security in Terminal 8, take the AirTrain, and then go back through security at Terminal 7. I knew this would be nearly impossible to describe to her, so I pulled up the Google Translate app, and asked her if she spoke Chinese.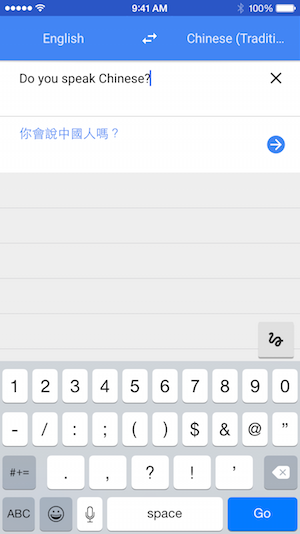 When she nodded excitedly, I told her that we weren't on her same flight to Hong Kong, but that I would show her how to get to Terminal 7.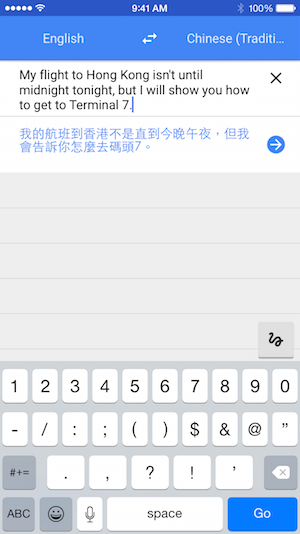 We would be taking the AirTrain to connect with the subway to get into the city anyway, so it was no big deal to show her how to get to the AirTrain since it was essentially on our way anyway. I found it almost ironic, yet in a good karma kind of way, that we happened to run into this woman. I knew that soon, we would be in her exact same position – in foreign countries, where we didn't speak the language, and I was really glad that we could offer her the exact help that she needed. I know what a positive memory it can be when perfect strangers in foreign countries have gone out of their way to help me, so I was more than happy to be a friendly, helpful stranger when she was completely lost!
With a good deed completed and good karma (hopefully) on our side, we headed in to the city. Since we would be there all day until almost midnight, I knew that having somewhere to drop off our bags and relax would be a huge plus, so we weren't "homeless" for 15 hours. Conveniently, as part of a recent Starwood Hotels promotion, I had earned a free night at any Sheraton hotel for completing 5 nights at Sheratons. The free night was only valid until shortly after we would return from our trip, and we had no other plans where we could use it, so I was able to cash it in for a free night at the Sheraton Times Square Hotel, giving us a home for the rest of the day, before our 15 hour flight to Hong Kong that night.